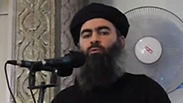 Archive
Photo: AFP/HO/Al-Furqan Media
The Iraqi military has officially addressed the reports on Monday claiming that the leader of the Islamic State (ISIS), Abu Bakr al-Baghdadi, was injured over the weekend in an aerial assault.
According to the army's statement, Iraqi forces were following a convoy that included among others, the leader of the terror organization, Abu Bakr al-Baghdadi, and thus managed to literally blow up a meeting between the leaders of the organization. During the attack, 13 people were killed, but the fate of al-Baghdadi himself remains unclear.
According to the Iraqi military's statement, the terror organization's leadership was set to convene in a house near the town of Al-Qa'im which is in the vicinity of the Syrian border. Al-Baghdadi was making his way to the area in order to meet with the organization's state leaders to discuss the collapse of their influence in the strategic city of Mosul, as well as choose an heir to al-Baghdadi.
In an announcement issued by the military regarding the Saturday assault, they stated that al-Baghdadi's convoy had reached its destination when the attack commenced.
"The Iraqi Air Force executed the attack with the use of an F16 fighter," was further stated in the announcement. The announcement also included a list of officials' names who were set to attend the meeting, though al-Baghdadi's name was glaringly missing.
On Sunday, the American channel in Arabic Alhurra reported that al-Baghdadi was seriously injured in the Iraqi Air Force attack in the western district of Al Anbar.
The broadcast was based on a report by an intelligence security official, associated with the Iraqi Ministry of Interior. According to the same official, the authorities received information stating that al-Baghdadi was in Al-Qaim's al-Sala region on February 9. The information was passed on to the Iraqi Air Force who then executed the attack that injured al-Baghdadi—who was then transferred back to Syria.
On Sunday, the Iraqi military stated that the reports regarding al-Baghdadi have yet to be confirmed.
Many attempts were made in the past by the Iraqi military and the international coalition against ISIS on al-Baghdadi's life, but to no avail. The standing price on his head is $25 million.