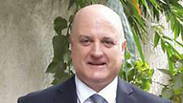 Report: Israel's Cairo envoy returned home amid security concerns
According to reports in the British daily The Telegraph, David Guvrin was brought back to Israel from Cairo three months ago after fears arose over his personal safety; while it is believed that since his departure Guvrin has not returned to Egypt, the Foreign Ministry has yet to comment on the matter.
Israel's ambassador to Egypt, David Guvrin quietly returned to Israel in late 2016 from Cairo over concerns for his personal safety, it was reported in The Telegraph. The Shin Bet confirmed that due to security concerns the ambassador and his staff have yet to return to Cairo.
Foreign Ministry spokesman Emmanuel Nahshon declined to comment on the report which was first reported in the British daily.
According to the report, Guvrin was evacuated from Cairo some three months ago and is currently working from Jerusalem. The Foreign Ministry is hoping to return him to Egypt as soon as circumstances permit.
The Telegraph said the exact circumstances are unclear, but it is most likely due to a series of terrorist attacks in the Egyptian capital which claimed the lives of several people and officials.
Ambassador Guvrin was appointed last summer and in September presented his credentials to President Abdel Fattah El-Sisi.