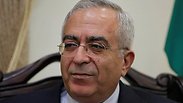 Salam Fayyad. Known in Israel as a modest, honest and diligent working man
Photo: AP
Tell me the truth: Is there anyone who really longs for or dreams of being appointed as the United Nations' envoy for solving conflicts in Libya? Up until this very moment, I have not seen a list of candidates pushing in line at the entrance to the New York office of the new secretary-general, Antonio Guterres. After all, this a mission in which one will find it difficult to gain any achievements. You have a title, you get a diplomatic passport, the salary isn't bad, but the list of shortcomings is long.

We are talking about a lot of frustration on the ground, of running around from the prime minister in Tripoli to his rival in eastern Libya, General Khalifa Haftar, and in between we have the Islamic State villains who might kidnap the envoy. Due to the circumstances, in faltering Libya one has to be armed with nerves of steel, speak Arabic, and be prepared and willing to risk one's life. It's so unattractive, that had the UN secretary-general chosen a Saudi, Egyptian, Moroccan or Iraqi politician, no one would have said anything.

Dr. Salam Fayyad is an eccentric person. A former prime minister in Ramallah, a finance minister (twice) and a stubborn fighter against corruption, who had the courage to search through Suha Arafat's accounts and developed a lot of resentment towards the confluence of money and government in Palestinian President Mahmoud Abbas' family as well.

In his seven years as prime minister, Fayyad outlined plans for the establishment of state institutions in the Palestinian Authority territories and prepared to upgrade the security apparatus. He did not get the chance to complete his mission. Abbas, who suspected that the "American" Fayyad was gaining authorities at his expense, made sure to set him up, sent the security apparatus to turn his modest office upside down and showed him the way out.

In Israel, Fayyad was known as a modest, honest and diligent man. He gave up on an extravagant official car in favor of taxis, walked around without bodyguards and answered the phone himself. One could have handed him donation money or tax returns amounting to tens of millions of shekels and be certain that they would reach their destination without him taking some into his pocket. His appearances in Israel, Washington and the European Union left a strong impression of a politician and economist who says what he means, is openly opposed to terror and is determined to tighten the security cooperation with Israel.

All that collapsed at once. Two years ago, at the lobby of the Intercontinental Hotel on the outskirts of Amman, I ran into Dr. Fayyad huddled deep in an armchair, busy playing Candy Crush on his cellphone. "What are you doing?" I was shocked, and photographer Shaul Golan snapped a picture of his fall. Fayyad raised his head with a look of despair. "When I am not wanted in Ramallah," he explained, "I go out to offer my skills elsewhere."

Israel's fingerprint are all over the effort to thwart the appointment of Fayyad, the Palestinian who has no state. The voice is Prime Minister Benjamin Netanyahu's voice, the hands are US President Donald Trump's hands. If he is appointed, Israeli officials say, it will be a hostile diplomatic maneuver, another move towards international recognition of a Palestinian state. And let's not forget that the Palestinians only have a non-member observer state status at the UN.

But there is another side to this issue, which is just as complicated: Libya is defined by Israel as a dangerous transit station for shipments of weapons and money funding the Hamas terror in Gaza. Israel could use its good ties (up until a few days ago) with Fayyad and enlist his help in the battle against those shipments. And looking into the future, Fayyad's appointment to this international mission could invigorate his status in the PA, so that he would return in the future to a senior position in the post-Abbas era in Ramallah.

Prime Minister Netanyahu, who claims to support the two-state solution, could have accepted the appointment, avoided spoiling the relations with the Israel-friendly UN secretary-general, and on the way, stopped the big mouths around him from thwarting the honorable appointment offered to Tzipi Livni as well.