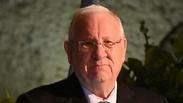 President Rivlin
Photo: Avihu Shapira
A ceremony marking the 20th anniversary of one of the deadliest accidents in Israeli military history in which 73 soldiers were killed in a midair helicopter crash was held Wednesday afternoon at Kibbutz Dafna.

President Reuven Rivlin, Chief of Staff Gadi Eisenkot, Minister of Defense Avigdor Lieberman and the families of those killed were all in attendance.

The 1997 disaster occurred as two Sikorsky CH-53 "Yas'ur" helicopters carrying IDF forces between Israel and southern Lebanon crashed over northern Israel. One of the helicopters crashed near Kibbutz Dafna in the upper Galilee, while the other helicopter crashed near She'ar Yashuv.

During his comments, President Reuven Rivlin referred to the northern front of Israel today, saying, "There is no real quiet with Hezbollah's rearming. Hezbollah has no peace aspirations as an organization supported by Iran, which is constantly attempting to harm Israel. If forced upon us, the next campaign in the north will be tougher than previous campaigns, but we are determined to face it trained, with our eyes open and our sword sharp."