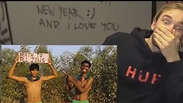 PewDiePie and the offensive video
Swedish YouTube star PewDiePie, whose real name is Felix Arvid Ulf Kjellberg, has been at the center of a media storm after uploading a video with anti-Semitic content. The video featured two Indian men holding up a sign that read "Death to all Jews." The story became even more muddled when it was discovered that PewDiePie had made the video using online Israeli website Fiverr. In the aftermath, PewDiePie lost some of his most significant financial backers.

The two Indian men refer to themselves as "Funny Guys" and were reached through Israeli freelance company Fiverr, which hires people to perform various activities around the world for low costs. PewDiePie's stated intention in uploading videos such as this was to create a provocation by seeing how far people would go to cause an online sensation.

After connecting to them via live feed, PewDiePie and all his online followers saw the two men pull out their sign. PewDiePie appeared shocked and pulled back from his computer, though he did not immediately stop the live feed.

Immediately after the video, Fiverr suspended their account. Their account was reactivated a few days later, though, following the two Indian men's requests and the request of PewDiePie. Fiverr responded to the incident by stating that any expression of hate or racism constitutes a direct violation of the platform's user agreement, and that the company uses any means available to it to respond to such breaches.

The offensive video has since been removed from YouTube, but its effect on PewDiePie's career did not end there: after the Wall Street Journal revealed other instances where he had uploaded videos containing anti-Semitic messages, video-sharing platform YouTube and media-entertainment conglomerate Disney both decided to sever all commercial ties with him.