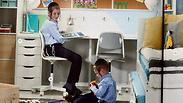 From the new Haredi IKEA catalogue
Haredi IKEA catalogue is a no-ma'am's land
The women in IKEA's new Haredi catalogue are conspicuously out of stock, inadvertently creating all-male families; 'Where are the women?' wondered one commenter; IKEA Israel says the new catalogue 'allows the religious and Haredi communities to enjoy thumbing through our products.'
IKEA, the assemble-yourself furniture experience company, has begun distributing a catalogue geared especially for the religious and ultra-Orthodox sector. In an effort to adhere to more traditional perceptions of modesty, the Swedish furniture company's catalogue does not feature images of women, thereby depicting a fantasy world where boys are raised in an all-male society.

In addition to restructuring the family unit, the catalogue focuses on furniture and products that are in higher demand among Haredi consumers, such as bunk beds, libraries for holy scriptures and baby cribs, as well as everything a couple would need for Saturday evening entertaining.



The texts in the catalogue are also aimed at the ultra-Orthodox. As such, in addition to a table decked out for the Sabbath and shelves full of prayer books, there were captions calling for customers to "savor the familial togetherness," featuring men raising their sons, while the womenfolk are nowhere to be found.

Reactions to the catalogue expressed various opinions, including confusion, sarcasm and incredulity. "This is amazing. I didn't know there were single-parent households in the Haredi community," said one commenter, while another wondered, "Where'd the mother go?"

IKEA's Israeli office issued a statement in response to issuing the catalogue, explaining that "due to requests we received, we decided to launch an alternative and special catalogue, which allows the religious and Haredi communities to enjoy thumbing through our products and the solutions that IKEA offers in accordance with their lifestyle."

IKEA stressed that the prices of the products featured in the Haredi catalogue were the same as their prices in their standard issue, and that anyone wishing to receive a catalogue showing men and men alone will be given one free of charge.