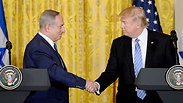 Netanyahu and Trump. Didn't say much about Iran
Photo: MCT
Netanyahu's unforgivable statement in White House meeting
Op-ed: Donald Trump is the person who opened the door to the rise in anti-Semitism in America by making racist comments, by encouraging radical right-wing movements and by refusing to condemn them. This is not the way a great supporter of the Jewish people acts. This is not even the way a small supporter of the Jewish people acts.
"Don't grovel," Britain's newspapers advised their prime minister, Theresa May, on the eve of her trip to Washington for a first meeting with US President Donald Trump. May did not follow their advice, was criticized for it, and when she returned home she attacked Trump from afar.

Prime Minister Netanyahu is built of different materials. When he decides to grovel, nothing will stop him, not even the facts. Out of everything that was said and wasn't said during Wednesday's press conference, one sentence was unforgivable—the last one. "There is no greater supporter to the Jewish people or the Jewish state than Donald Trump," ruled the Jewish state's prime minister.

Netanyahu gave Trump this authorization in response to a question from our colleague, Channel 10 correspondent Moav Vardi, which mentioned the rise in anti-Semitic incidents in America in recent months.

Trump opened the door to this phenomenon by making racist comments, by challenging political correctness, by encouraging radical right-wing movements and by refusing to condemn these movements' anti-Semitic posts. This is not the way a great supporter of the Jewish people acts. This is not even the way a small supporter of the Jewish people acts.

For those of you who are wondering why this makes my blood boil, as there were more urgent issues on the agenda Wednesday, this is my response: Trump's election tore the Jewish community in America in half. Experts on this community, which is so important to Israel, are warning that the day in which Jews will refuse to pray side by side at the synagogues is close.

There are Jews who take pride in Trump's Jewish son-in-law and in his converted daughter; other Jews, the majority, see Steve Bannon by their side, the guru of anti-Semites in America and the man who calls the shots in Trump's White House. They hear the words of flattery from the Jewish state's prime minister, and they start choking.

And now to the urgent issues. We should not be shocked by the lightness in which Trump threw into the bin decades of American support for the two-state solution. In his simplistic, blatant way, he put his finger on the heart of the problem: If both sides want two states, they should agree on two states; if both sides want one state, they should agree on one state. America shouldn't have to teach them what is best for them.

If he had a bit more knowledge, he would understand that both sides have basically chosen the third option: Not to agree.

Netanyahu told him on Wednesday about the far-reaching concessions he is prepared to make for peace. He is good at telling these stories. He also told him about his secret affair with the regimes in Saudi Arabia, Egypt, Jordan and the oil emirates.

If opposition leader Isaac Herzog believed him, so will Trump. But there will be no regional peace without a regulation of the Palestine issue, and there will be no regulation without concessions which are unbearable for the leaders of both sides.

Trump spoke like someone who is eager to get involved, and get his son-in-law involved, in the negotiations. The settlers should be concerned by this enthusiasm. It brings along an expectation for flexibility in Israel's stance and for restraining the settlement construction.

The annexation of Ma'ale Adumim or Gush Etzion is not in line with these statements. Neither is massive construction. The greatest supporter of the Jewish people is demanding flexibility. How can we say no?

The more important question is Iran. Trump and Netanyahu didn't say much about it at the press conference, apart from the derogatory names they both gave Barack Obama's nuclear agreement.

Netanyahu has to return to Israel with some kind of achievement on this front. Without Iran, all he is left with is the attention Trump devoted to Sara—a nice gift, and fortunately completely legal. What a shame she can't drink it.

From the American media's perspective, what happened on Wednesday was outrageous, regardless of Israel. Trump chose the American journalists who got to ask questions, and they were both hired workers of marginal pro-Trump media outlets.

The question at the heart of the agenda—the cooperation between Trump's people, and perhaps Trump himself, with a Russian move to sabotage the presidential election—was not asked.

Trump's version regarding the dismissal of General Michael Flynn, his national security adviser, was false. The accusations he made were fabricated and did not clear the air. The affair will keep casting a shadow over his presidency.

Of the two men standing on the stage, the more eloquent, more reasoned, more presidential person was our man. Sara Netanyahu once said that her husband could have been elected US president. Trump proved that she was right.