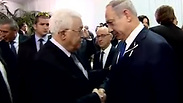 Netanyahu and Abbas
Photo: GPO
A new poll shows the number of Israelis and Palestinians who support the establishment of an independent Palestinian state has dropped in recent months. But far more people continue to prefer the two-state solution to an alternative single-state arrangement.

The joint Israeli-Palestinian poll was released on Thursday, a day after President Donald Trump and the visiting Israeli Prime Minister Benjamin Netanyahu distanced themselves from the two-state solution.

The poll found that 55 percent of Israelis and 44 percent of Palestinians support a two-state arrangement. That compares to 59 percent and 51 percent last June. Yet just 24 percent of Israelis and one-third of Palestinians prefer a single binational state.

The EU-funded poll surveyed over 1,200 people on each side and had a margin of error of 3 percentage points.