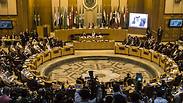 Arab League refuses to deviate from idea of two states
A day after PM Netanyahu and President Trump announced they are gearing up to restart the Israeli-Palestinian peace process with the involvement of key regional players, and appearing less emphatic about insistence on a 2-state solution, Arab League reiterates its unshakeable support for two states to two peoples; warns against moving US embassy to Jerusalem.
The Arab League issued a sharp response Thursday to a meeting that took place between President Trump and Prime Minister Netanyahu's the previous night, spelling out its unshakeable commitment to a two-state solution to resolving the Palestinian-Israeli conflict and warning of the dire consequences involved in moving the US embassy in Tel Aviv to Jerusalem.

Arab League Secretary-General Ahmed Aboul Gheit said that the Palestinian-Israeli conflict required a two-state solution after Trump was less emphatic about the prospect for such a conclusion to the conflict and the US's unwavering commitment to Palestinian statehood.

"It requires a comprehensive and just settlement based on a two-state solution and the establishment of an independent Palestinian state on ... 1967 borders with its capital in Jerusalem," Egypt's state news agency quoted Aboul Gheit as saying after meeting the UN chief Antonio Guterres in Cairo.

Gheit also said, according to Egypt's state news MENA, that moving the US embassy to Jerusalem would be explosive for the situation in the Middle East.

The comment came on the heels of a remark made by President Trump during the meeting when asked whether he was still committed to realizing his campaign pledge to move the embassy.

"I'd like to see that happen. We're looking into it very carefully," he answered one of the journalists.

Lebanese Hezbollah said on Thrusday that the Trump-Netanyahu meet had effectively signalled an end to peaceful negotiations between Israel and the Palestinians.

"After what came out after the meeting between Netanyahu and Trump, I am not exaggerating if I say that yesterday there was a semi-official announcement of the death of the path of negotiations," Hezbollah leader Sayyed Hassan Nasrallah said in a live televised speech.

"For the Israelis, there is no such thing as a Palestinian state," Nasrallah said, adding that the two-state solution was the only thing keeping the door to negotiations open.

Trump and Netanyahu spoke with a significant degree of ambiguity regarding what a new and original plan may entail which they said would involve other key regional players, ostensibly such as Saudi Arabia and Egypt.

However, with Egypt's statements and those of the Arab League, any hopes for a more flexible or changed position on how to resolve the seemingly intractable conflict seem scant.

Nevertheless, reports in the international media which surfaced in recent weeks indicated that such regional players would potentially show greater flexibility than simply pedalling the mantra of pre-1967 borders which has dominated Middle East talks since the Six-Day War the same year.

For example, The New York Times reported last week that Trump and his advisors are putting together a plan to have Arab countries such as Saudi Arabia and Egypt directly involved in negotiations between Israel and the Palestinians, as he sees their input as an important element to solving the conflict.

Additionally, London-based newspaper Al-Hayat said that the Trump administration is considering hosting a summit in Washington for Arab leaders to discuss the peace process.

The paper further claimed that Jordanian King Abdullah II had managed to convince Trump to renege on his promise to move the US Embassy to Jerusalem, citing concerns over the region's security and the detrimental blow it would deliver to any prospect of peace.

A Jordanian official was quoted on Thursday as saying that Jordan still holds strong to the two-state vision of a Jewish Israel and an Arab Palestine.

Saudi Arabia's Foreign Minister Adel al-Jubeir said his country expects to have a productive relationship with the Trump administration and is optimistic that US-Saudi cooperation can overcome challenges in the Middle East.