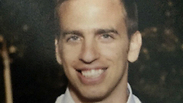 IAF investigation into fatal F-16 crash concluded
The IAF did not 'fully understand the potential risks of asymmetric landings' like the one that ultimately led to the death of Maj. Ohad Cohen-Nov; the IAF investigation produced new safety and training regulations in an attempt to avoid another tragic accident.
The Air Force published the results of the investigation into the death of F-16 pilot Maj. Ohad Cohen-Nov, who was killed while abandoning his aircraft during a botched landing at the Ramon airbase last October.

Cohen-Nov attempted the landing after returning from a sortie in the Gaza Strip, and it was believed that uneven weight distribution resulting from munitions caused an asymmetrical difficultly, which resulted in the crash.

The investigation concluded that the F-16's crew followed all the proper procedures and guidelines and decided to abandon the jet after losing control. Furthermore, no technical failure was discovered in the aircraft.

The investigation highlighted two central lessons that the IAF will take forward. The first being that pilots will undergo asymmetric traning simulations during their instruction and the second, that in future situations, pilots may jettison munitions into the sea in order to balance out their aircraft.

Representatives of Lockheed Martin took part in the investigation, including in the analysis of asymmetric landings that Israel has conducted in the last eight years with F-16s.

Commander of the IAF Maj. Gen. Amir Eshel accepted the results of the investigation and termed the crash a tragic accident. Eshel further ordered new training simulations, exams, test flights and qualifications for pilots in an attempt to increase safety.