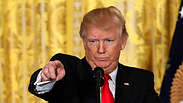 Trump at the press conference
Photo: AP
A Haredi reporter's question on rising anti-Semitism in the United States was apparently misunderstood by President Donald Trump on Thursday evening, who seemed to think that he was being labeled an anti-Semite.

The reporter for Ami Magazine, Jake Turx, was called on by Trump to pose a question at a press conference in the White House. He began by asking to differentiate from other reporters and stated his belief that neither the president nor his staff is anti-Semitic.

He mentioned Trump's familial connection to the people of Abraham, remarking that the American president is the "zayde" to three Jewish grandchildren, employing the Yiddish term for "grandfather."

Finally reaching the meat and potatoes of his statement (as he did not manage to reach an actual question), he drew the president's attention to the recent "uptick in anti-Semitism" and said that his community was concerned with how the government is intending to handle it.

He starting going into specifics, such as bomb threats and other public, threatening anti-Semitic incidents when Trump cut him off, 44 seconds into what was supposed to be a question for the president.

Trump accused Turx of posing an unfair question and told him, 'Sit down; I understand the rest of your question."



The president, apparently misunderstanding the direction of the reporter's line of questioning, reaffirmed that he was not an anti-Semite. He explained that he was "the least anti-Semitic person that you've ever seen in your entire life."

Seemingly thinking that he was being accused of anti-Semitism, he said, "I hate the charge; I find it repulsive." Trump recalled the statement of Israeli Prime Minister Benjamin Netanyahu the day before, quoting the prime minister as saying, "I've known Donald Trump for a long time…Forget it."

Trump concluded by calling the question "insulting" and remarking once more "that's the way the press is."

Shortly thereafter, Turx posted to his Twitter, "President Trump clearly misunderstood my question. This is highly regretful and I'm going to seek clarification."

Speaking by telephone with Ynet's Ilana Curiel two hours after the press conference, Turx explained that he had meant to ask what the US government would do to counter the rise in anti-Semitism in the country. "As the only fulltime Orthodox Jewish correspondent in the White House," Turx said that his duty was to ascertain this information.

Turx hastened to clarify that he did not doubt Trump's pro-Jewish credentials, recalling his being the grand marshal of the Israeli Day Parade in the past and his warm relationship with Netanyahu.

Asked if he felt attacked by the president when the commander-in-chief told him to be quiet, Turx replied, "That's not something I take personally, and that's not something that reporters take personally." Having lived in New York, the reporter said that he wasn't fazed by a "heated exchange."

He portrayed the American Orthodox Jewish community as turning to the president as "an ally" and "a friend of the community" for help in combating anti-Semitism.

The Anti-Defamation League relased a statement that reads in part, "On two separate occasions over the past two days, President Trump has refused to say what he is going to do about rising anti-Semitism or to even condemn it. It is mind-boggling why President Trump prefers to shout down a reporter or brush this off as a political distraction. This is not a partisan issue. It's a potentially lethal problem—and it's growing."