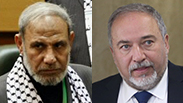 Al-Zahar and Lieberman
Photos: AFP, Alex Kolomoisky
A senior Hamas official countered the Israeli defense minister's message on Thursday night by saying that his organization would only consider returning three Israeli civilians and the remains of two IDF soldiers in exchange for the release of Palestinian prisoners in Israeli prisons.

Dr. Mahmoud al-Zahar, one of the founders of Hamas, was responding to Avigdor Lieberman's Arabic-language message of earlier that day aimed at the Palestinians of the Gaza Strip. The right-wing minister of defense had offered to help improve Gazan infrastructure, including permitting the construction of a seaport, an airport and an industrial zone in Gaza, as well as helping create 40,000 jobs in the strip.

In exchange, the leader of Yisrael Beytenu insisted that Hamas demilitarize Gaza and remove an article in its charter calling for the annihilation of the State of Israel, in addition to releasing the Israeli civilians and remains.

Al-Zahar replied to Lieberman, "Release the heroic Palestinian fighters from all factions so that there will be a reason to release the Israeli soldiers."

Lieberman's recorded message was posted on the website of the Coordinator of Government Activities in the Territories (COGAT) in an effort to encourage the civilian population of Gaza to put pressure on its leadership to accede to Israel's demands.

He had said in his message that Israel was ready to help "turn Gaza to a Singapore of the Middle East, but for that, the residents of Gaza must remove the Hamas leadership."

Al-Zahar replied, "If we want to turn Gaza into Singapore, we'll do it with our own hands and not as a favor from anyone."