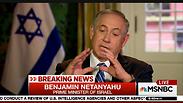 Netanyahu on two-state solution: 'Labels are not important'
After meeting with US President Donald Trump, Prime Minister Benjamin Netanyahu uses his time abroad to interview with two of the largest news networks in the US, speaking on subjects such as the two-state solution, rising radical Islam in the Middle East, the issues with Iran and his meeting with Trump.
In an interview with MSNBC's Greta Van Susteren, Prime Minister Benjamin Netanyahu answered the question of whether he supports the two-state solution by saying: "I've always said that the labels are not important; it's the substance that's important."

"Peace requires that the Palestinians finally accept the Jewish state and give up their ideas and fantasies of destroying it and that Israel retain the right to the security control of the area west of the Jordan River," Netanyahu explained, adding that "otherwise we'll just get in the Palestinian regions Islamist dictatorships that will explode peace and the Middle East."

Regarding the settlements, Netanyahu said: "I think it's an issue, but I don't think it's the issue, because the real core of this conflict between us and the Palestinians is not this or that settlement, or this or that community, it's the persistent and enduring refusal to recognize a Jewish state in any boundary.

"We left the Gaza Strip, where half of the Palestinians live. We went back to the 1967 border, uprooted all of the settlements and even dug up graves. But they didn't use the land to build a state of peace. They fired 25,000 rockets on our heads, and dug tunnels used for terrorism."

The prime minister said the settlement issue has "been ingrained in the public mind" as the central obstacle to peace. "Mind you this is an issue we agreed to discuss. We've set up a mechanism to discuss a way to reach an understanding," he added, referring to the Israeli and US governments.

When asked, Netanyahu declined to compare Trump to former US President Barack Obama: "I'm not going to start rating presidents. I will tell you though that I had a very, very warm meeting with President Trump. There was a great sense of kinship and friendship and I think that this is something the people of America feel toward the people of Israel. And, I assure you, the people of Israel feel deeply about the people of America," he said.



In his interview with Fox News' Sean Hannity, Netanyahu commented on his meeting with Trump: "I think it was a historical meeting. It was a meeting of the minds and a meeting of the hearts," he said, later adding: "I knew him from the time that I served as Israel's ambassador to the UN. We would sort of bump into each other here and there in New York City. We got to know each other over the years, and most recently obviously. We've always had a great alliance between Israel and America through successive presidencies—I feel we have now, as the president says, 'an even stronger alliance.'"



Netanyahu spoke of the change in the relationship between Israel and its neighbors driven by a shared concern about the rise of radical Islam: "I think there is a change, and the change is coming because of the rise of radical Islam. Radical Islam has two fountainheads," Netanyahu explained. "One is the radical Sunnis led by ISIS and before that by Al Qaeda, and the radical Shiites led by Iran. The Arab countries are threatened by both.

"And when they look around they say 'who's going to help us against these twin threats?' And they say 'there's one country in the region that's powerful, that's determined, that's resolved to fight this common enemy, and that's Israel.' So they don't view us any more as their enemy, but increasingly they see us as their ally, against the common threat."

On the Iran deal, Netanyahu said: "The deal essentially said this—it said 'no bomb today, 100 bombs tomorrow, in 10 years,'" Netanyahu said. "And Iran doesn't change its attitude… We're all prey to this militant Islamic regime that will arm itself with nuclear weapons and ballistic missiles that can reach you."