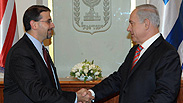 The ambassador and PM
Photo: Amos Ben Gershom/GPO
Daily newspaper Haaretz reported on Friday morning that Prime Minister Benjamin Netanyahu contacted then-US Ambassador to Israel Dan Shapiro in the spring of 2014 and asked him to intervene to assist Israeli businessman Arnon Milchan in re-obtaining a ten-year visa in the US.

Milchan is involved with the investigation labeled by the Israel Police "Case 1000," in which the prime minister is suspected of having received illicit gifts from businessman, including from the famed Hollywood producer Milchan.

The report in Haaretz is based on conversations with at least three senior officials in the Obama administration. According to one, Shapiro reported to the State Department that Netanyahu had brought up his request and that the prime minister was extremely agitated over the matter.

The former officials confirmed that Netanyahu had at least three telephone conversations between 2013 and 2014 with then-Secretary of State John Kerry on the matter. It was also reported that Isaac Molho, a representative of Netanyahu, telephoned a senior official in the State Department in 2013 and said, "The prime minister wants to speak with Secretary Kerry urgently."

According to the report, a few hours later, a phone conversation took place, and Kerry discovered that the urgent matter was Milchan's visa. Netanyahu reportedly spoke aggressively and said, "Milchan has contributed a great deal to the American economy. Give him a visa."

In reply to Haaretz, the prime minister's bureau stated, "Aren't you sick of recycling these futile questions over and over? This is another invalid and desperate attempt to put pressure on law enforcement officials."

Milchan's spokesman, Ronen Tzur, told the daily, "Since the case began we are careful not to respond on the issue for understandable reasons, whether the information is correct or baseless and imaginary."