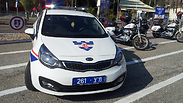 Illustration
Photo: Yoav Zitun
Senior army officer suspected of misconduct
Technological and Logistics Directorate Head Brig. Gen. Nehemiah Sokel is investigated by the Military Police, on suspicion of receiving a NIS 1,000 discount for his son, from the father of a female soldier, after helping her transfer to another base due to an alleged harrasment incident.
An IDF Criminial Investigations Division (within the IDF Police) investigation has launched an investigation against Technological and Logistics Directorate Head Brig. Gen. Nehemiah Sokel. Sokel has gone on vacation until the end of the investigation.

Sokel is suspected of helping a female soldier transfer bases after she claimed that she was harassed in her current base. The request for transfer was sent by the female soldier's father.




Military Police claimed that the father, an IDF disabled veteran and Event's Hall owner, granted Sokel's son a NIS 1,000 discount last year for an event Sokel's son held in his hall.

Sokel denied knowledge of the discount and claimed that he had helped the soldier transfer out of good intentions, after she had voiced complaints of experienceing harrasment.

Sokel's lawyer, Col. Ran Cohen, said that "the officer utterly denies the allegations against him. He didn't receive anything because he did nothing inappropriate. The officer will go on vacation until the investigation's speedy resolution. I'm positive it will end with the investigation dropped and all allegations against my client cleared."

Regardless of the investigation, Sokel is due to retire from the IDF within one month.