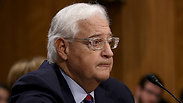 Friedman at his Senate confirmation hearing
Photo: Reuters
US Union for Reform Judaism opposes Friedman as ambassador to Israel
The Union for Reform Judaism states its opposition to the nomination of David Friedman, US President Trump's choice for ambassador to Israel; the organization's criticism of the nomination of vehemently pro-settlement Friedman follows apprehension and outright objections from former US ambassadors to Israel and pro-Palestinian activists.
The leaders of the largest branch of American Judaism are declaring their opposition to David Friedman, US President Donald Trump's pick to be his ambassador to Israel.
The liberal Union for Reform Judaism says has declared its opposition to Friedman on Friday. The union stressed in its statement that it has never before opposed the nomination of an ambassador to Israel. But the group, the largest association of synagogues in America, said David Friedman's extreme views and lack of foreign policy experience make him the wrong person for the job.



The Union for Reform Judaism thus joins others who have voiced their disapproval to Friedman's nomination as ambassador. On Thursday,

five previous US ambassadors to Israel raised similar concerns over the nomination, signing a letter asking that the Senate Foreign Relations Committee thoroughly evaluate his qualifications.

The ambassadors, who served Republican and Democratic presidents, referred to Friedman's reported past accusations, in which he called former president Barack Obama and the entire State Department of anti-Semitism.

They also referenced his characterizing supporters of J Street, a liberal, left-wing Jewish group, as "kapos"—the name given to the Jews who cooperated with Nazis during the Holocaust.

Friedman testified on Thursday before the Senate committee and sought to repair the damage done from his caustic statements against those who don't share his hard-line, pro-Israel views. While appearing before the committee, Friedman was repeatedly heckled by a Palestinian whose parents had immigrated to the US from the Palestinian territories.

Friedman has publicly apologized and pledged to be "respectful and measured" should he be confirmed as Trump's envoy to the Jewish state.