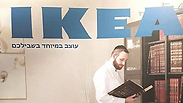 Swedish furniture retailer IKEA has apologized for a catalog aimed at Israel's ultra-Orthodox Jewish community that contains no images of women.

IKEA says the booklet was produced by its Israeli branch, not by the Swedish group itself.

IKEA spokeswoman Josefin Thorell says the catalog "is not something that has gone through us," adding "we have been very clear that this is not what the IKEA brand stands for."

Thorell told Swedish news agency TT late Friday that its Israeli franchise "had tried to reach a consumer group" and made "an error."

Thorell was not immediately available for comment on Saturday, and it was not clear how many catalogs had been printed.

In Israel, there are a variety of publications excluding women that are geared toward the Haredi community. For example, Clalit health services and public buses both have published advertisements featuring only men, touching off civic firestorms.

Despite Haredi men also be required to maintain modesty, women are the only ones excluded from publication as a result of their appearance.