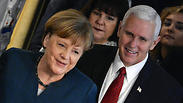 Pence: US 'committed' to ensuring Iran never obtains nuclear weapons
Speaking at the Munich Security Conference, Vice President Pence reiterated the Trump administration's support for Israel's security by firmly stating the US will not allow Iran to acquire nuclear weapons with which to threaten Israel.
US Vice President Mike Pence affirmed the Trump administration's tough stance on Iran by stating that the United States will not allow Tehran to obtain nuclear weapons with which to threaten the State of Israel.

Speaking at the Munich Security Conference, Pence went on to refer to Iran as the "leading state sponsor of terrorism" whose actions continue to destabilize the Middle East.

In comments sure to please Prime Minister Benjamin Netanyahu, who has made Iran one of his top priorities with the new American administration, Pence said, "Let me be clear: Under President Trump the United States will remain fully committed to ensuring that Iran never obtains a nuclear weapon capable of threatening our countries, our allies in the region, especially Israel."

Since the election of President Trump, Iran has stepped up its saber-rattling by testing ballistic missiles, vowing to "firmly respond" to alleged US aggression, calling Israel the "biggest threat" to world peace and expanding its military influence in both Syria and Yemen.

Vice President Pence emphasized antagonistic Iranian posturing and noted that "thanks to the end of the nuclear-related sanctions, Iran now has additional resources to devote to these efforts."

This is Pence's first overseas trip as vice president and he sought to calm European anxiety over perceived Russian belligerence and NATO funding commitments.

German Chancellor Angela Merkel met Pence on the sidelines of the conference and made a point of noting to Pence that NATO "is in the American interest." She also pointed to the need to preserve and strengthen other multinational partnerships such as the European Union and the United Nations.

For his part, Pence made a point of vowing that the United States "will hold Russia accountable" and will unwaveringly support its commitment to NATO. However, Pence did call on NATO members to boost spending in order to meet "the standard."