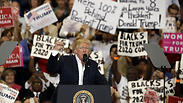 Trump back on campaign trail, blasts media as 'enemy of the American people'
Trump built his campaign on criticizing the press as biased. In addition to regularly accusing the media of overstating his setbacks, he also accuses journalists of failing to show sufficient respect for his accomplishments.
President Donald Trump, after a rocky first month in office, returned to the campaign trail on Saturday to deliver another attack on the media and tout his White House accomplishments in the friendly and familiar atmosphere of a rally with supporters.

Landing on Air Force One as the sun set near a hangar filled with thousands of people, Trump reveled in the crowd and listed promises he had kept, including starting the process of building a wall on the US border with Mexico, deporting "bad people," and pulling the country out of a trade agreement with Asian nations.

"Life is a campaign. Making our country great again is a campaign," he told reporters on Air Force One ahead of the rally, when asked about criticism that he was starting to campaign already.

The rally marks an especially early start to the 2020 race for the White House. Trump filed re-election papers with the Federal Election Commission five hours after he was sworn in as president on Jan. 20. He does not have an opponent or even a field of Democrats yet vying to run for their party's presidential nomination.

The businessman-turned-politician told the crowd he wanted to speak to them without the filter of "fake news," his standard critique of journalists and media organizations that cover him.

His tirade against media outlets have increased as of late and culminated with Trump going as far as labeling the press as the "enemy of the American people."

Shortly after arriving at his holiday home in Mar-a-Lago, Florida, Trump lashed out again with a series of Tweets, lambasting several mainstream American media outlets.

"The FAKE NEWS media (failing @nytimes, @NBCNews, @ABC, @CBS, @CNN) is not my enemy, it is the enemy of the American People!" Trump wrote on Twitter.

Trump had tweeted an earlier post which targeted the New York Times, CNN, NBC "and many more" media—and ended with the exclamation "SICK!"

Many US presidents have criticized the press, but Trump's language has more closely echoed remarks leveled by authoritarian leaders around the world.

His comments had some observers declaring that the Republican was veering dangerously close to infringing on the constitutionally protected freedom of the press.

"I love that part of the 1st Amendment that declares the press the enemy of the American people," conservative commentator S.E. Cupps wrote on Twitter, adding the hashtag "TrumpsAmerica."

Ben Rhodes, a top advisor to former president Barack Obama, called Trump's criticism of the media "a gift to authoritarians everywhere—will discredit any US efforts to support freedom of the press globally."