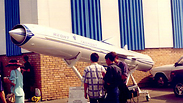 Western intelligence agencies have expressed "grave concerns" that Hezbollah has been able to obtain strategic naval weapons that could change the balance of power in the Middle East.

Despite great efforts attributed to Israel over the past five years to prevent Hezbollah from getting its hands on such weapons, the Lebanese terror organization is believed to have been able to smuggle into Lebanon a certain amount—likely no more than eight—of P-800 Onyx missiles, also known in export markets as Yakhont.

The information, which was passed among several intelligence agencies, is based on what was defined as "highly reliable sources."

The Russian supersonic anti-ship cruise missile is regarded as the naval equivalent of the antiaircraft S-300 and is considered the best of its kind in the world. It can be fired from the shore and has a range of up to 300 kilometers. There is no known electronic defense system that could deal with it or intercept it.

According to Israeli intelligence officials, Hezbollah could use the Onyx missiles to significantly threaten the Israeli Navy, the US Sixth Fleet and civilian vessels in the Mediterranean, as well as Israel's newly built oil and gas rigs.

It is possible that some of the attacks attributed to the Israel Air Force against arms depots and weapons shipments from Syria to Lebanon were meant to thwart the transfer of the Onyx missiles to Hezbollah.

In December, after another airstrike in Syria attributed to Israel, Defense Minister Avigdor Lieberman said that "Israel has some red lines, including the transfer of advanced weapons or chemical weapons to Hezbollah."

Lieberman met with his American counterpart in Munich on Friday morning for the first time since former Gen. James Mattis assumed the role of secretary of defense, telling him that the three central problems that need to be dealt with were "Iran, Iran and Iran."

The Israeli defense minister told Yedioth Ahronoth on Saturday that he found an attentive ear in Mattis. "Defense Secretary Mattis is even stricter and harsher than us in his positions on Iran, Hezbollah and Hamas. There is no need to convince him of anything. He's completely with us," Lieberman said.

He went on to say that "Defense Secretary (Ashton) Carter was also a supporter of Israel and we saw things eye-to-eye, he was the most pro-Israel official in the Obama administration." However, "it's clear now that this is a different administration, which is going to take decisive measures."

Lieberman, along with his colleagues from Germany, France, Britain, Italy and other representatives who arrived in Munch for a security conference, heard from the Americans that President Trump had ordered to strengthen both intelligence and operational cooperation between the United States and Western countries—particularly Israel—on the Iranian issue.

In late 2012 and early 2013, the US launched secret talks with Iran in Muscat, the capital city of Oman, which led President Obama to order to significantly reduce US actions against Tehran.

"We know you were angry when President Obama ordered to halt some of the operations against Iran in early 2013," American officials told their Israeli colleagues on Friday. "We're working to rectify the situation."

On Saturday, Lieberman met with Russian Foreign Minister Sergey Lavrov in an effort to "strengthen the security cooperation between (Israel and Russia) and hold an open discussion on the situation in Syria," according to Lieberman.

Russia and Israel have been coordinating military actions on the Israel-Syria border to avoid an accidental clash.

During the meeting, Lavrov presented Russia's efforts to reach a resolution in Syria, while Lieberman spoke of Israel's red lines, demanding that any agreement in Syria includes the complete halt of arms transfers to Hezbollah and an end to its ties with Iran. Lieberman also made it clear that President Bashar Assad cannot remain in power.

After meeting with Lavrov, Lieberman also met with German Defense Minister Ursula von der Leyen. During the meeting, Lieberman proffered Germany a large military hardware package from Israel, including electronic systems and intelligence.

"During her speech, the German defense minister said the German army is in need of procuring new armaments," said an Israeli official who was involved in preparing the deal, adding, "We are prepared to offer what they're missing. Their army is in need of a lot."

Israel is aware that Germany is wary of the Russian missiles that are stationed in the Baltic region and has committed significant resources to acquiring missile defense systems. Israel is hoping to interest Germany in examining the possibility of acquiring the "Arrow" anti-ballistic missile system from Israel.

Such a deal, if implemented, has significant economic and strategic implications.