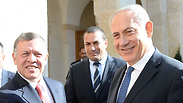 Netanyahu and Abdullah
Photo: Kobi Gideon, GPO
Netanyahu admits attending secret peace summit
Netanyahu confirms veracity of reports in Israeli media that he attended a clandestine summit, joined by Egyptian, Jordanian and US leaders; Jordan claims efforts underway 'to restart the negotiations between Israel and the Palestinians based on a two-state solution, which is the only solution to the conflict.'
Prime Minister Benjamin Netanyahu confirmed Sunday morning that he met secretly a year ago with the leaders of Egypt and Jordan in a failed bid by the Obama administration to convene a wider regional summit on Israeli-Palestinian peace.

Speaking to ministers from his Likud party, Netanyahu said that he had participated in a clandestine meeting on February 21, 2016 in the Jordanian Sea resort of Aqaba with the then US secretary of state John Kerry, Jordan's King Abdullah and Egyptian President Abdel-Fattah al-Sisi.

During the summit, according to a report in Haaretz, Kerry presented a regional peace initiative which allegedly included recognition of Israel as a Jewish state and that would renew negotiations between Israel and the Palestinians.

However, the initiative to involve other Arab states in the pursuit of peace with the Palestinians ultimately fizzled out, the newspaper said, after Netanyahu withdrew his initial support, pointing to opposition within his right-wing government.

Speaking to his ministers on Sunday, Netanyahu responded to the report by implying that Kerry had not initiated the plan, but rather he had. "Maybe I initiated the summit?"

Palestinian President Mahmoud Abbas did not attend the Aqaba meeting but was updated by Kerry, Haaretz said.

A spokesman for Netanyahu declined to comment on the report. Al-Sisi's office issued a statement referring to the news report, without mentioning a specific newspaper, as having "incorrect information" but did not deny that a meeting took place. No immediate comment was available from Jordan.

The Egyptian president also emphasized during a meeting with a delegation of leaders from Jewish leaders in the US that a two-state solution was just, and was a top priority.

"The establishment of peace will bring about a new reality that will enable regional countries to make social and economic developments that the peoples of the states except," al-Sisi said. He also added that peace would end one of the most important excuses used by terror organizations to justify their acts.

In addition, efforts are continuing among Arab states to renew contact between Israel and the Palestinians. Indeed, Jordan's king met Sunday with members of the US Congress in Amman.

"The meeting dealt with recent developments in the region and especially on efforts to restart the negotiations between Israel and the Palestinians based on a two-state solution, which is the only solution to the conflict," said a Jordanian statement.