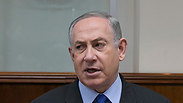 Netanyahu
Photo: Olivier Fitoussi
Netanyahu says Trump's settlement moratorium request may preclude Amona resettlement
Speaking at a Security Cabinet meeting on Sunday, Netanyahu said President Trump's recent request to 'hold back' on construction in the West Bank may impede his ability to deliver a promise to found an alternative settlement for the evacuees on the land of their choosing; Likud members fear failure to fulfill pledge could precipitate Bayit Yehudi's exit from the government, risking its demise.
Prime Minister Benjamin Netanyahu said Sunday that US President Donald Trump's recent request that he "hold back" on constructing settlements in the West Bank would impede his delivery of a promise made to Amona evacuees that they would be resettled on any land of their choosing.

His comments came during a Security Cabinet meeting after the prime minister reported to his ministers that the meeting with Trump and other top US officials had been positive.

Nevertheless, Netanyahu reiterated that fulfilling his pledge to the Amona evacuees—who were removed from the outpost after the High Court ruled that it was built on Private Palestinian land—in light of Trump's demand for a moratorium, would become increasingly difficult.

His announcement also adds to the list of crumbled compromises and deals with the residents, who on a number of occasions were told that their evacuation would be compensated with the establishment of a new settlement.

Prior to making the comments on Sunday, ministers Ayelet Shaked (Bayit Yehudi), Ofir Akunis (Likud), Miri Regev (Likud) and Yariv Levin (Likud) implored Netanyahu to follow through on his commitment to the evacuated settlers, saying that "Promises should be kept".

After hearing them out, Netanyahu responded by saying that while Amona is important, there are larger and more important issues at stake, hinting at Iran.

However, top Likud officials expressed concern that Netanyahu's failure to make good on his promise could precipitate an exit of the Bayit Yehudi party from the coalition, thereby risking its demise.

On Friday, Bayit Yehudi Leader and Education Minister Naftali Bennett tweeted that "Promises need to be kept. The prime minister signed an agreement to establish a new settlement for the residents of Amona. I'm sure he'll uphold this commitment."

Bennett was joined by fellow party member and Justice Minister Ayelet Shaked, who tweeted that "The government is committed to the agreement that was signed with Amona residents and we have no intention of violating it. There will be a new community for Amona residents as promised."