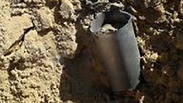 One of the rockets located
Police Spokesperson's Unit
Two rockets were fired from the Sinai Peninsula and landed in open space in Israel on Monday morning, the IDF reported.
The rockets landed in the Eshkol Regional Council, according to an initial statement released by the IDF Spokesperson's Unit. No injuries or damages were caused.
A Red Alert was not sounded, the statement said, due to the fact that the rockets were fired into open space.
Tensions have been heating up recently between Israel and terror organizations such as ISIS which control parts of the Egyptian desert, with sporadic rocket fire into Israel threatening to rock the stability of the normally calm border.
The incident comes against a background of reports on Sunday in an ISIS news agency that an unmanned aerial vehicle (UAV) belonging to the Israel Air Force attacked a vehicle in Egypt's Sinai desert on Saturday, liquidating five of the Islamic terror group's members in the process.
The report alleged that the attack was carried out in a village in northern Rafah.