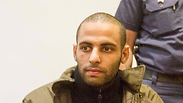 Mohammad Shinawi
Photo: Ido Erez
Minister of the Interior, Aryeh Deri, asked Attorney General Avichai Mandelblit for his permission to begin proceedings to revoke the citizenship of Mohammad Shinawi, 21, from Haifa, who was charged with the murder of Guy Kafri in a January terror attack.

In a letter sent to Mandelblit Monday by Minister Deri, Deri noted that there are two procedures for denying citizenship, either by appealing to Administrative Court or by a ruling from the court which originally held a hearing on the criminal procedure, in this case the Haifa District Court.

According to Deri, "There is no need to elaborate on the importance of Israeli citizenship, which carries with it the duty of loyalty between the citizen and his country and the country to the citizen."

Deri added, "The use and abuse of status in Israel—especially that of the citizen—in order to kill another Israeli citizen is inexcusable. I am determined to revoke the status of those Israelis."

To date, there have only been three cases in which citizenship was revoked due to acts of terror, due to the complexity of the process.

Shinawi's attorney, Sami Shalata, said that this is a process that has begun even before the start of the trial against his client. "In order to begin the process of revoking citizenship, you must wait until the end of proceedings, including conviction and sentencing. This is very far off. I think this kind of influence on the court in inexcusable, and I believe that our court system should act according to justice despite the pressures."