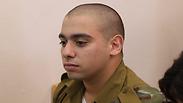 Azaria in court
Photo: Motti Kimchi
Sgt. Elor Azaria has been sentenced to a year and a half in prison Tuesday during a sentencing hearing at the Kirya base in Tel Aviv. The special military court handed down the sentence after Azaria was found guilty of manslaughter in January.

Azaria will begin serving his sentence on March 5, when he must report to Prison Six in northern Israel. A year into the sentence, it is customary to transfer soldiers to a civilian prison, but a special Ministry of Justice committee will be convened in Azaria's case in the future, if necessary.

The sentencing brings an end to a trial and national saga that lasted almost a year and thrust the debate of the IDF's combat ethics and soldiers squarely into the public discourse.

Azaria reported at the Tel Aviv military headquarters early Tuesday morning. His entrance into the courtroom was greeted by loud applause from his supporters. He was accompanied by his parents, Charlie and Oshra, his girlfriend and other family members.

Near the court, approximately 100 demonstrators gathered to express their support. His father asked his son's supporters to "maintain restraint, without much fuss even though they are trying to portray us as criminals."

In reading out the sentence, the presiding judge, Col. Maya Heller, said, "The defendant shot a terrorist without any justification. The only value that was harmed by the defendant's actions was the value of life. Azaria also defiled the purity of arms which is upheld by the IDF."

Heller continued, saying, "There are a number of mitigating circumstances that required consideration, including a complicated area where terrorists attempted to kill soldiers and even managed to injure one."

Eyal Besserglick, one of Azaria's defense attorneys, said, "The chances of a successful appeal are very good. A central witness has recanted testimony."

Azaria's lawyers now have 15 days to file an appeal from the day of sentencing. The appeal's outline has already been written and the central claim focuses on judges supposedly ignoring evidence presented by the defense.

The defense is planning on filing an appeal, based on information that one of the trial's central witnesses has recanted their testimony. In addition, the defense is also filing a request for a postponement of incarceration until such a time as the appeal is ruled upon.

The prosecutor, Lt. Col. Nadav Weissman, is opposed to a delay and demanded that Azaria begin serving his sentence as early as Sunday. "The appeal could have already been written, as 45 days have passed since the verdict was given. The defendant no longer gets the benefit of the doubt. A manslaughter sentence should be immediately carried out."

Azaria was found guilty of manslaughter in January after shooting dead a seriously wounded terrorist who carried out a stabbing attack in Hebron just moments earlier.