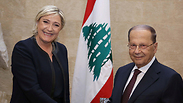 Le Pen and Aoun
Photo: Reuters
French presidential candidate Le Pen meets Lebanon's President Aoun
The far-right Presidential candidate's first meeting with a foreign leader touches on refugees, radical Islam and the 'fruitful friendship' between France and Lebanon; Le Pen also met with PM Saad Hariri and Lebanese foreign minister.
One of the leading candidates in France's presidential election, Marine Le Pen, had had her first meeting with a leader of a foreign country, President of Lebanon Michel Aoun, on Monday.
According to Lebanese media, Le Pen told Aoun that "his choice marks the start of an era of stability, growth and renewal in Lebanon."
Aoun himself spoke about the depth of the relations between Lebanon and France and hoped that they will continue to strengthen them by learning from the shared values that unite the French and Lebanese.


"We spoke about the long and fruitful friendship between our two states," said Le Pen after her 30-minute meeting in Beirut with Aoun, the only Christian president in the Middle East.
Le Pen also said that she spoke to Aoun about the refugee crisis in his country, which had more than a million illegal Syrian refugees who escaped their war-torn country.
The far-right French candidate is well known for her anti-immigration position. Despite this, she has called upon the international community to increase humanitarian aid in order to assist refugees and the Lebanese government.
Le Pen also said that she and Aoun discussed the rise of radical Islam, which is proving to be a serious international concern, and how to deal with it.
During her visit to Lebanon, Le Pen also met with Prime Minister Saad Hariri and Minister of Foreign Affairs Gebran Bassil.


Hariri told Le Pen that Muslims are the first victims of terrorism, which hides under the pretext of religion, when in fact, there is no religion. "Moderate Muslims, who make up the majority of Muslims in the world, are the first targets of radical terrorist acts in the name of religion. This is because they are the first to fight it," said Hariri.


The French presidential election is expected to take place in April (first round) and in May (second round). According to recent polls, Le Pen is projected to win the first round, but projected to lose to the independent candidate Emmanuel Macron in the second round. Even so, the gap between the two is diminishing lately in favor of the far-right National Front leader.
Le Pen's visit to Lebanon was meant to increase her international credibility and score points with the French electorate. Her rival, former Economy Minister Emmanuel Macron, visited Lebanon in January and also met with Aoun and Hariri.