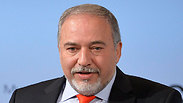 Defense Minister Avigdor Lieberman
Photo: EPA
Defense Minister Avigdor Lieberman sarcastically commented on the ISIS report that an Israeli drone killed five of its fighters in Sinai in an interview to Army Radio on Monday night. "The source of the attack today was indeed Sinai and as always, I guess Lichtenstein's Special Forces liquidated a few ISIS terrorists in Sinai yesterday and the day before that," said Lieberman.

The Yisrael Beiteinu Chairman added: "We leave nothing uncommented. I don't think ISIS in Sinai poses a major threat. It's vexing, it's bothersome, but when you speak of Hamas and Hezbollah, they're without a doubt no longer terror organizations; each of them has built its own army."

ISIS claimed on Sunday that an unmanned aerial vehicle (UAV) belonging to the Israel Air Force attacked a vehicle on Saturday, liquidating five of the Islamic terror group's members in the Rafah area. ISIS-affiliated news agency al-Amaq reported that the alleged attack was carried out in a village in southern Rafah.

Monday morning, two rockets were fired from the Sinai Peninsula and landed in open space in Israel near the Egyptian border, in the Eshkol Regional Council. There were no casualties and no damage was incurred.

A week and a half ago, four rockets were fired from the peninsula toward Eilat—three of which were intercepted by the Iron Dome missile-defense system and the fourth falling in an open area. Approximately two hours after the attack, Hamas reported two casualties and five wounded in an attack in the Rafah region. IDF officials claimed the attack may have been executed by the Egyptians.

The defense minister also addressed the Hezbollah Secretary General Hassan Nasrallah's threat to attack the Ammonia tanks and Dimona. "A dog that barks doesn't bite," said Lieberman. "I advise him to continue sitting there in his bunker, making these small cameos. I don't intend to have any kind of public argument with him."

Lieberman also addressed the verdict that is set to be handed down on Tuesday in the case of IDF soldier Elor Azaria's trial, saying he hopes the judges take into consideration the fact he is an outstanding soldier who fought terrorists.

"I advise the family not to prolong their suffering. After the verdict is handed down, they may appeal to the Central Command Chief and ask him to mitigate the punishment."