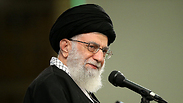 Ayatollah Ali Khamenei
Photo: Reuters
Iran's Supreme Leader Ayatollah Ali Khamenei called on Palestinians on Tuesday to pursue an uprising against Israel, suggesting the Israeli government was a "cancerous tumor" that should be confronted until Palestinians were completely liberated.

"... by Allah's permission, we will see that this intifada will begin a very important chapter in the history of fighting and that it will inflict another defeat on that usurping regime," Khamenei said, according to his website.

The Supreme Leader's bellicose comments, made during a two-day conference in Tehran focused on its support for the Palestinians, come at a time of increasingly heated rhetoric between Iran, Israel and the United States.

While on a visit to Washington last week, Israeli Prime Minister Benjamin Netanyahu told Fox News that Israel and the United States had a "grand mission" to confront the threat of a nuclear Iran.

US President Donald Trump has already been highly critical of a deal hammered out between Iran and world powers, including the United States, in 2015 intended to partially lift sanctions on Tehran in exchange for curbs on its nuclear program.

Iran says its program is for purely peaceful means.

When Iran carried out a ballistic missile test in late January, Trump's then national security adviser Mike Flynn said the administration was putting Iran "on notice".

Ordinary Iranians have been posting their concerns about a possible military confrontation between Iran and the United States on social media.

Khamenei did not mention any Iranian military attack against Israel in his comments on Tuesday and was focused on gains that Palestinians could make in any confrontation with Israel, which he described as tumor developing into "the current disaster"

"The Palestinian intifada continues to gallop forward in a thunderous manner so that it can achieve its other goals until the complete liberation of Palestine," he said, according to the transcript of the speech posted on his website.