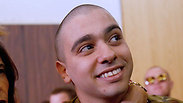 Elor Azaria
Photo: Tomer Applebaum
The court's decision to sentence Sgt. Elor Azaria to 18 months in prison on Tuesday was met by a significant public outcry to pardon him, most notably from several senior political figures.
Bayit Yehudi leader and Education Minister Naftali Bennett was among the first to come out in favor of pardoning Azaria, who was convicted in January of the manslaughter of a neutralized terrorist who had carried out a stabbing attack in Hebron just moments earlier in March 2016.
"The security of the Israeli people demands the immediate pardon of Azaria who was sent to protect us. The process (Azaria's trial) was tainted from its base." Bennett tweeted, adding that "Elor must not be imprisoned, or we will all pay the price."
Minister of Construction Yoav Galant also called on Defense Minister Avigdor Lieberman and IDF Chief of General Staff Gadi Eisenkot to take measures to pardon Azaria.
"The whole Azaria affair has taken a toll on the army and the Israeli people. In light of the punishment he received during his remand and for the purpose of healing the cracks within the public, we must show a measure of sense and compassion. I call the Defense Minister and the IDF Chief of General Staff to pardon Azaria, even today," said Galant.
Minister of Transport Yisrael Katz also joined the call to pardon Azaria, tweeting "the court has said its piece, the legal proceedings are over. It is now time for pardon. Bring Elor back home."
Commenting on the court's verdict on his Facebook page, Defense Minister Avigdor Lieberman indicated that no pardon would be forthcoming, and that the court's ruling would be upheld.
"Now, after the verdict, I hope that both sides will do what is needed in order to put this matter behind us. As I have said before, even those who do not like or even object the court's verdict must respect it, and as I have also said, the IDF should stand beside the soldier and his family. We're talking about an exceptional soldier on one side and a terrorist aiming to kill Jews on the other. This is something that everyone needs to take into account."
Protest over the court's verdict (Credit: Matan Turkia) (צילום : אבי חי)
MK Zehava Gal-On (Meretz) criticized the members of the Knesset who called to pardon Azaria.
"The court sentenced Azaria to 18 months in prison. That is the lowest amount of time possible for this kind of crime, and it was given despite the judges saying that Azaria 'made himself judge and executioner.' And still, not surprisingly, calls to pardon him are already being heard," Gal-On wrote on Facebook.
"Too many politicians used the Azaria story over the past few months for their own agenda, no matter what the cost was. Every effort was legitimized in trying to whiten this black flag. It's good that the court and the IDF Chief of General Staff refused to bend under the pressures, and I hope that the president will also refuse to succumb and won't pardon Azaria, for if we do not recognize a red line when it's so bold, we will lose more than our ability to hold a professional army. We will lose our most basic values," Gal-On added.
Opposition leader Isaac Herzog (Zionist Union) praised the court's decision, writing "the court showed sensitivity and understanding to the soldier's plight and at the same time followed the strict implementation of the IDF's purity of arms. Elor Azaria is a victim of impossible political circumstances that the state of Israel has been avoiding for years. It is up to the government, the Defense Minister, IDF and official defense authorities to now inspect the ways to prevent the next difficult case."