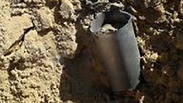 Rocket that exploded in attack
Police Spokesperson's Unit
ISIS claimed responsibility on Tuesday for the launching of two rockets which were fired into Israel from the Sinai Peninsula and landed in open space in the Eshkol Regional Council on Monday morning.

No one was injured in the attack and no damage was caused.

The incident occurred against a background of reports on Sunday in an ISIS news agency that an unmanned aerial vehicle (UAV) belonging to the Israel Air Force attacked a vehicle in Egypt's Sinai desert on Saturday, liquidating five of the Islamic terror group's members in the process.

One of the people killed in the alleged attack was a Salafi activist in the Gaza Strip.