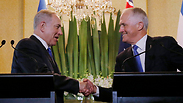 Netanyahu in Australia
Photo: AP
Australian PM reiterates support for two-state solution
As Netanyahu pays first ever visit by a serving Israeli leader to Australia, Prime Minister Malcolm Turnbull emphasizes his country's commitment to achieving a two-state solution to the Israel-Palestinian conflict; reaffirms country's commitment to supporting Israel, while pledging to oppose any 'one-sided' UN resolutions.
Australian Prime Minister Malcolm Turnbull said Wednesday that his country remains supportive of a two-state solution for concluding the Israel-Palestinian conflict, while expressing his steadfast defense of Israel.

The comments came during the first ever visit by a serving Israeli prime minister to Australia. Turnbull also told reporters that his country is a consistent friend of Israel's.

Moreover, the Australian premier emphasized that while Australia still backed the two-state formula, he criticized the United Nations and vowed to never support what he described as "one-sided resolutions."

"We support an outcome which has two states where Israelis, the Israeli people, the Palestinian people live side-by-side as a result of direct negotiations between them," Turnbull told reporters in Sydney.

Israeli Prime Minister Benjamin Netanyahu praised Australia for being "courageously willing to puncture UN hypocrisy" on anti-Israel resolutions and added that any solution would need Palestinians to recognize Israel, which would also have security control of the territories.


Turnbull marked the first visit to Australia by a serving Israeli leader by writing an opinion piece in The Australian newspaper that backed Netanyahu's criticism in 2015 that the United Nations General Assembly had adopted 20 resolutions critical of Israel in the preceding year and only one in response to the Syrian war.

"My government will not support one-sided resolutions criticizing Israel of the kind recently adopted by the UN Security Council and we deplore the boycott campaigns designed to delegitimize the Jewish state," Turnbull wrote, referring to the December 23 resolution condemning Israeli settlements in the West Bank and construction in east Jerusalem as a "flagrant violation" of international law.


The United States abstained from that vote and Australia, while not a member of the Security Council, was one of the few countries to publicly support Israel's position.

Netanyahu said he was delighted to read the article at the start of his four-day Australian visit.

"Australia has been courageously willing to puncture UN hypocrisy more than once, including this absurd resolution that said the Western Wall, the most sacred site for the Jewish people for thousands of years—thousands of years even before the rise of Islam—that this is occupied Palestinian territory," Netanyahu told reporters.

"So the UN is capable of many absurdities and I think it's important that you have straightforward and clear-eyed countries like Australia that often bring it back to Earth," he said.

Netanyahu and Turnbull signed agreements on technology and air services and also discussed expanding co-operation in various areas, including cyber-security, innovation and science.