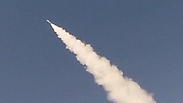 Iron Dome
Photo: Ministry of Defense
An upgraded version of the Iron Dome missile defense system has successfully passed a series of tests in recent days, in which the new jointly-developed Tamir interceptor missile destroyed several projectiles.
The experiments are part of a set, annual program conducted by the Ministry of Defense and Rafael Advanced Defense Systems.
Video courtesy of the Ministry of Defense (צילום: מנהלת חומה במפא"ת, משרד הביטחון)
The experiments were conducted in the south and meant to test the ability of the Iron Dome to intercept a variety of targets fired simultaneously at different ranges.
The use of the Tamir missile is significant as the missile itself contains components that were jointly designed and built by both Israel and the United States under an agreement signed in 2014.
Under the conditions of the agreement, Israel is committed to having some components manufactured in the United States through Raytheon and the United States Missile Defense Agency.
The defense establishment is seeking to establish a national system for all of Israel's missile defense systems—including Iron Dome, David's Sling, Arrow 2 and Arrow 3—in order to improve "the economy of battle," thus shortening the amount of time required for target acquisition and the use of the appropriate missiles at the appropriate range, which can cost tens of thousands of dollars per unit.