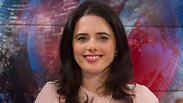 Justice Minister Ayelet Shaked
Photo: Ido Erez
Shaked seeks to reduce Supreme Court interference in politics
Justice Minister Ayelet Shaked is celebrating her success in appointing three conservative Supreme Court judges, telling Ynet: 'Political decisions should be left to the government and the Knesset. They were the ones chosen by the people; they are the authority for it.'
Justice Minister Ayelet Shaked sought to assuage concerns over the imminent change to the Supreme Court's makeup after appointing three conservative judges, arguing on Thursday that she is working to reduce the Supreme Court's interference in political matters.

On Wednesday, the Judicial Selection Committee of the Supreme Court selected four new judges to sit in the highest court of the land: Yosef Elron, George Karra, Yael Vilner, and David Mintz. Three of the judges are considered conservative right wing, while Tel Aviv District Court Judge George Karra is the only one not seen as conservative.

In her interview with Ynet, Shaked asserted that the judicial independence of the court is a cornerstone that will be preserved. However, stressed that her goal in the long run is to "turn back the wheel" on what she dubbed as former Chief Justice Aharon Barak's "everything is up for judgment" revolution, when the courts were empowered with the authority to annul laws passed by the Knesset.

The choice didn't leave anyone in the political system indifferent: victory celebrations by the right and criticism by the left. What does it mean, when politics are so involved with the court?

"It is like this everywhere. The Supreme Court judges in the United States are also chosen by politicians. The court doesn't just rule on ethical problems, but on dilemmas regarding state and religion, even sometimes on political questions as well. In Israel, there is a different and slightly odd method whereby ministers and representatives all sit together to choose (judges) for the Supreme Court. Even so, it is clear that this decision should be politically based."

Do you think that the criteria for choosing a judge should be their place of residence and religion?

"Definitely not. When a judge is from Tel Aviv, he is not labeled as a 'judge from Tel Aviv,' while a judge from (the Israeli West Bank settlement) Dolev is."

How important was it to you that the judges' political opinion will resemble yours?

"Generally, we don't know what a judge is thinking. A judge speaks in his verdict and we can learn primarily from what he writes. That is the best way to do so. Although, I will definitely not hide that I'm happy that these judges are diverse. Yes, some also religious, which is good, it's important."

Is there an expectation that these judges will rule differently on things such as the Regulation Law or the Prevention of Infiltration Law?

"The judges are keeping their independence. Judicial freedom is very important, but when we chose these judges, we knew what their judicial world view was, and I'm not talking about right or left but about activism versus conservatism. That was the goal: to promote conservative judges and that goal was accomplished."

Could it be that judges were promoted not specifically because they are the most qualified, but because they are conservative or right-wing?

"We had a list of 27 judges, almost all of whom were exceptional. Terrific judges, also great scholars."

You have said before that the court intervenes too much with decisions made by the government and the Knesset. Will you continue trying to roll back Aharon Barak's revolution?

"This is not the erosion of independence. I repeat and emphasize: Judges in Israel are independent and that is how it should stay. But certainly, reducing the Supreme Court's interference with political decisions is something I'm promoting and will continue to promote. Political decisions should be left to the government and the Knesset. They were the ones chosen by the people; they are the authority for it."

How far will you go?

"We need to turn back the wheel and I'm doing what I can."
The new judges
The four judges chosen were: David Mintz, Yael Vilner, Yosef Elron, and George Kara, in what was considered a clear win for Shaked and the conservative wing.

These four judges will replace outgoing Supreme Court justices Naor, Rubinstein, Jubran, and Zilbertal.

Judge Yosef Elron was in the center of a bitter dispute between judges and politicians. Elron, who is serving as the chief justice of the Haifa District Court received a cold shoulder by some of the judges of the Supreme Court who said that he is "not made from the stuff Supreme Court judges are made of." Even so, Finance Minister Moshe Kahlon stood by his support of Elron, saying that he is considered to be an efficient judge. Elron is known for sentencing the police officers who sentenced to kill mob boss Michael Mor out of revenge to only one year in prison.

Judge Yael Vilner, the first religious female judge, was nominated by Shaked. Appointed judge to Haifa's Magistrate's Court in 1998 and to Haifa's District Court in 2004, Vilner is considered an attentive and quick judge. She is known for rejecting the petitions against the establishment of the Haredi town of Harish, who is projected to have a population of 50,000 residents.

Another judge that Shaked supported and managed to put on the list of candidates was Jerusalem District Court Judge Dr. David Mintz, who is a resident of the settlement Dolev in the West Bank. Shaked sees Mintz as a conservative appointment who will listen to the religious right and settlers.

The last one is Judge George Karra, a Tel Aviv District Court judge and a Christian Arab who was supported by Supreme Court Chief Justice Miriam Naor and other Supreme Court members, and is the only judge among the new four to not be clearly conservative. Karra is noted for sentencing former President Moshe Katzav to seven years in prison.