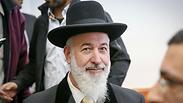 Judge adds a year to former chief rabbi's sentence
In an unusual move, court adds additional year to prison sentence of former Ashkenazi chief Rabbi Metzger, who in January signed a plea bargain stipulating he would serve 3.5 years for a string of corruption offences; Judge notes that Metzger would have received 6-9 years had he rejected the deal.
Former Ashkenazi Chief Rabbi of Israel Yona Metzger was told Thursday afternoon by the courts that his prison sentence of three-and-a-half years would be increased by one year, despite a plea bargain signed in January over a string of corruption offences including bribery, fraud and breach of trust during his tenure as chief rabbi.
In January, the rabbi signed a plea agreement with the Jerusalem district attorney, stipulating that he would serve 3.5 years in jail after pleading guilty to the charges of bribery and fraud. Metzger was also fined NIS 5 million by the court.
However, the judge from the Jerusalem Magistrate's Court revised the bargain, ruling instead that Metzger would serve an extra year in prison based on the former's rejection of the original plea bargain which he considered too lenient, according to which he would have served 3.5 years.
He also defended the decision, adding that had Metzger declined the deal, he would have been required to serve between 6-9 years.
Upon hearing his sentence, Metzger began weeping.
Metzger was charged in October 2015 with bribery, fraud and breach of trust. According to the indictment, he received a bribe of NIS 10 million, NIS 7 million of which made it into his pocket.
According to the original indictment, Metzger was charged for corruption and receiving illicit donations valued at millions of shekels in exchange for services he conducted as part of his role as chief rabbi.
He was suspected of using his driver Haim Eisensdadt as his cash courier for financial offenses. Police suspect Rabbi Metzger gave his drive 10 percent of the bribes he received.
In one case, the two raised funds for a yeshiva operating in Metzger's synagogue.
According to suspicions, the driver received a $28,000 worth of donation, handed it over to Metzger, and it was divided between the two without being transferred to the yeshiva.
Another donation of NIS 72,000 was given by an Israeli businessman to an association providing food to the needy. After receiving the funds, the association's director allegedly gave Metzger 30 percent of the donation, about NIS 22,500, without informing the donor. According to the indictment, this was repeated many times.