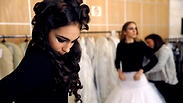 Modest fashion show
Photo: Reuters
Israeli models wearing modest designs took to the catwalk on Thursday, showcasing fashion aimed at religious Jewish women who adhere to strict religious rules emphasising modesty for women.

Modest fashion show for ultra-Orthodox Jewish women

The rare fashion event, dubbed Modest Fashion Day, drew hundreds of orthodox women and fashionists who seek to enjoy trendy colourful fashion, despite the strict dress code.




Some 20 ultra-Orthodox fashion designers participated in the event, said orthodox stylist Miri Beillin, adding that it was the first big-scale fashion event for Jewish religious women.

"We are working for this amazing day—fashion modesty—which is a complete, amazing experience for us as religious women," Beillin told Reuters in the show's backstage.

Beillin, a mother of five who lives in the ultra-orthodox city of Bnei Brak, also runs a styling school for orthodox women. She explained that fashion was always very important for religious women, especially when going out on dates trying to find a 'shiduch,' Hebrew for match.

A trend for a more modest look that is recently rising in the international fashion scene, brings new opportunities to the orthodox clothing design, Beillin said.

"The trend is really modest. So people are looking in our direction now to find that modest kind of look, which is very interesting to see it, and people from out of our small communities are coming now to buy the more modest kind of clothing," she said.

They say they seek to offer a modest alternative to Orthodox women many of whom have spent a lot of time fixing or adding pieces of cloth to regular designs which did not meet their modesty standards.

The religious sector in Israel has a strong purchasing power, designers say, and in recent years has seen more openness.

Hagit Or-Agassi, designer and owner of Bianconero, an Israeli brand for modest women's clothing, added that her biggest challenge in her work is to adjust fashion trends to modesty demands, such as long sleeves, covering elbows and knees, or a closed neck line.

"What is very smart and important in our job - that we should take the fashion and make it as the religious rules going," she said.

Another designer, Hadasa Benizri, voiced great excitement ahead of the show, saying that it was going to be "a real, real, real, real fashion show, with the red carpet and with the most most beautiful dress in the world."

The fashion show showcased a variety of looks, from day to day outfits to sophisticated evening wear and bride's dresses.

Lital Alfassi, watching the show, told Reuters that she was very excited by the high-quality, fashionable event.

"I think that fashion is a very, very important way that we can dress not the same, we can look different, and it's a beautiful way to express ourselves."