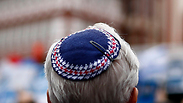 Father of sons attacked in Paris: the solution is not to remove kippot
The sons of Armand Azoulay, the head of the Jewish community in a Paris suburb, are still recovering after being viciously attacked earlier this week; 'They called my son "a dirty Jew,"' says the senior Azoulay. 'They didn't understand where this hatred was coming from.'
"The solution is not to take off the kippah, but to succeed in stopping the anti-Semitic attitude and to stop accepting extenuating circumstances to those who do this," said Armand Azoulay, the head of the Jewish community in the Bondy, Seine-Saint-Denis suburb of the city of Paris, whose two sons were violently attacked earlier this week. Azoulay's 17-and 29-year-old sons, who were wearling kippot at the time, got into an altercation at a red light with two other men. They claimed they had been stared at insistently before being threatened: "I'll kill you, you dirty Jew."

The two strange men continued to provoke the brothers and eventually caused them them to pull over and exit their car, at which point they attacked the brothers. The police report on the case states that one of the suspects pulled out a saw and attacked the older brother in an attempt to cut off his fingers.



"The head of the district as well as the Ministry of the Interior and the mayor are doing everything they can to find those responsible," Azoulay told Ynet. "Everyone has been calling to show their support. There haven't been any special problems in Bondy following the Intifada in 2000."

Azoulay described the moments of anxiety his sons experienced during the attack. "The suspects tried to pass them several times, and then they tried to push them off the road so their car would drive onto the sidewalk and cause an accident. So they (his sons—ed) stopped by a nargila bar to see what was going on. My son didn't understand what was happening. They called him 'a dirty Jew' and insulted him, but he didn't understand where this hatred was coming from."

Azoulay's older son's shoulder was dislocated during the altercation, while his younger son was injured in his finger. Both received medical care and are doing well. So far no individuals have been arrested, but reports indicate that the suspects had a Mediterranean counternanace.