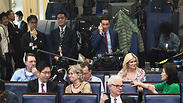 The White House press briefing
Photo: AFP
White House bars major news outlets from gaggle
US President Trump is continuing battle with media by banning news outlets New York Times, CNN and Politico from taking part in unofficial White House briefing with Press Secretary Sean Spicer; Trump has repeatedly accused CNN and the New York Times of spreading lies to discredit him.
News organizations including the New York Times, the Los Angeles Times, CNN and Politico were blocked from joining an informal, on the record White House press briefing on Friday.

Several news organizations were allowed in, including the conservative website Breitbart News. The site's former executive chairman, Steve Bannon, is chief strategist to President Donald Trump. The Associated Press and Time chose not to participate in the gaggle following the move by White House press secretary Sean Spicer.

The White House defended the decision not to include some news organizations.

"We invited the pool so everyone was represented. We decided to add a couple of additional people beyond the pool. Nothing more than that," said White House spokeswoman Sarah Sanders.

Earlier Friday in a speech before the Conservative Political Action Conference, President Trump railed against the media. Unleashing a line of attack that energized an enthusiastic crowd at the nation's largest gathering of conservative activists, Trump said unethical reporters "make up stories and make up sources."

"They shouldn't be allowed to use sources unless they use somebody's name," he declared. "Let their name be put out there."

Trump told the Conservative Policy Action Conference that while not all reporters are bad, the "fake news" crowd "doesn't represent the people. It will never represent the people and we're going to do something about it."

Trump didn't expand on what he had in mind or which news organizations he was talking about. But his broadsides represented an escalation of his running battle against the press, which he has taken to calling "the opposition party."

Trump has also specifically called out CNN and the New York Times by name, accusing them of being "fake news" and of spreading lies aimed to discredit him.

Reaction from barred media outlets was swift.

"Nothing like this has ever happened at the White House in our long history of covering multiple administrations of different parties. We strongly protest the exclusion of The New York Times and the other news organizations. Free media access to a transparent government is obviously of crucial national interest," Dean Baquet, the Times' executive editor, said in a statement.

"The AP believes the public should have as much access to the president as possible," Lauren Easton, the AP's director of media relations, said in a statement.

"This is an unacceptable development by the Trump White House. Apparently this is how they retaliate when you report facts they don't like. We'll keep reporting regardless," CNN said in a statement.