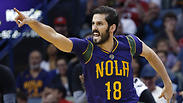 In a rough turn of events for Omri Casspi, the New Orleans Pelicans have decided to waive the veteran forward despite acquiring him less than a week earlier.

In his first game with the Pelicans against the Houston Rockets, Casspi had a solid debut, scoring 12 points in 24 minutes on 5-9 shooting from the field. However, the 28-year-old Casspi suffered a broken thumb and is expected to miss at least four weeks.

Casspi was traded to New Orleans with fellow teammate and friend DeMarcus Cousins from the Sacremento Kings on February 20th.

Surely with no pun intended, following the injury and subsequent reports of Casspi's release, Cousins said, "Its unfortunate man, my guy can't catch a break. He really can't."

The broken thumb comes on the heels of a calf injury that had previously sidelined Casspi for 15 games prior to the All-Star break.

However, the good news for Casspi is that despite his release, he will be able to return to full eligibility as a free agent just before the start of the playoffs on April 15th, making him available for any team interested in his acquisition.