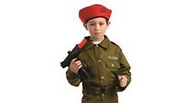 15,000 police, soldier and pilot costumes all bearing the Israeli flag and an "IDF" patch were nearly sent to Tehran by mistake instead of Israel.

The bizarre mistake begins with an Iranian businessman who ordered thousands of costumes to sell at stores he owns throughout Iran for the Iranian holiday of Nowruz. The company's country code designation for shipping to Iran is listed as IRN.

The costumes were ordered through the brand Lola Costumes, which maintains a factory in China and is partly owned by Israeli Estee Lazar.

Simultaneously, the 15,000 Israeli police, soldier and pilot costumes were ordered in preparation for the Jewish holiday of Purim. Israel's company code designation for shipping is listed as IRS.

Lazar says she noticed the mistake when the two containers were loaded on to the same truck with the same destination address. "Someone in China thought there was no difference between IRS and IRN and decided to send both containers to Iran," said Lazar.

"The mistake was found at the last moment and we managed to fix it. I can't even image what would have happened if IDF costumes had been sent to Iran."