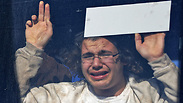 Looking for a new home
Photo: AFP
Illegal outpost rejects another illegal outpost's evacuees
Those who were removed from Amona three weeks ago still don't have a home. They'd like to move to Geulat Zion—another hilltop settlement that Israeli authorities continually have to dismember—but those who have already laid claim to it aren't having any of it.
Three weeks have passed since Amona was evacuated, and its former residents still don't have a new place to live—though they've been eyeing another illegal outpost in the West Bank.

Following Amona's evacuation, its former inhabitants went on a tour of the Benjamin Regional Council to search for a location for their new home. They selected the hilltop location called Geulat Zion, which already has a few caravans parked atop it, but only from time to time.

Why only from time to time? Because, like Amona before it, the outpost isn't legal, and when somebody dares to set up a structure there—or even just a tent—personnel from the Civil Administration come to evict them and destroy the structure.


Over the past three months, the Israel Police and Shin Bet have been dispatched to the outpost dozens of times. They have been responding to fears that "price tag" attacks would come from the outpost. In seven of their raids, 17 Jewish youths have been arrested, though they were all eventually released.

It might seem that those settlers who are trying to make Geulat Zion a more permanent outpost would be happy to welcome their ideological kith and kin from Amona, but, over the past week, it became clear that the residents of the Shiloh Valley don't excel in the Jewish virtue of welcoming guests.

Shortly after the former Amona residents visited Geulat Zion in ATVs, their WhattsApp group received a message from the first would-be residents of the hilltop. It said that those who had already staked out Geulat Zion for themselves were shocked to hear about the former Amona residents' intentions to settle in their outpost without any discussion first.

They said that they considered such an idea to be impertinent, but they were nevertheless willing to meet and have a discussion with them. They also scolded the recently displaced and claimed that the fact that they were recently evicted from their homes was no reason to evict them in turn.

A few days afterwards, the Civilian Authority sent units for the umpteenth time to destroy a building and a few tents that had been set up there. The five families that lived there at the time—the Asrafs, Gozlans, Zarugs, Melets and Morrises—assumed that this was in preparation for establishing a new town for the families from Amona, to whom they immediately sent a letter.

"To the sweet residents of Amona," they wrote. "We wanted to explain that, God forbid, we don't have anything personal against you. We love you, respect and completely share in your personal pain over the shattering of your home."

The rest of the letter was decidedly less empathetic: "We've chosen to follow the path that rejects any negotiation for the destruction of our land, not even moving a flower in the garden. If you don't agree with our way, then please, go back to Amona and establish a real settlement."

Creating a new settlement is part of the Amona deal, which was signed two months ago by representatives of the outpost's residents and Prime Minister Benjamin Netanyahu. Preparations, according to the document, were to begin "immediately." However, this hasn't happened yet. The former residents of Amona would like to remind those who need to be reminded that agreements must be kept, but they're not really being heard.