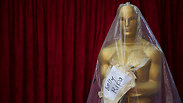 89th Academy Awards
Photo: EPA
An Israeli start-up will be paying special attention on the night of the Oscars to check the accuracy of its predictions.
The Israeli company Taykey analyzes hundreds of millions of data points per day to see what's trending and how those interests change over time. The information then permits digital advertisers to adjust their ads in real-time.
A model engineered by the company has tapped Jewish actor Andrew Garfield for Best Actor for his role in Hacksaw Ridge (86% positive comments) and Isabelle Huppert for Best Actress for her role in Her (76%). The application also predicted Mahershala Ali for Best Supporting Actor for his role in Moonlight (82%) and Viola Davis as Best Supporting Actress for Fences (89%).
According to CEO Amit Avner, "we noticed that last year's Oscar winners were those who triggered the strongest feelings within the majority of users… For example, Leonardo DiCaprio, who won Best Actor, garnered 80% positive talkbacks from all the online chatter about him. Matt Damon, on the other hand, who lost in that very same category, garnered only 53%."
The company made waves last October after Donald Trump Jr. tweeted an image that compared Syrian refugees to a bowl of Skittles, asking: "If I had a bowl of skittles and I told you just three would kill you, would you take a handful? That's our Syrian refugee problem."
Taykey Marketing Coordinator Sara Ben-Ezra responded to the Tweet with a report titled Good Judgment Sweetens Potential Controversy for Two Popular Candy Brands, analyzing the response made by the brand and the positive trend generated by the Tweet. That, in turn, led to a massive increase in consumption despite its negative context.
"If Skittles abstained from the conversation, they would likely have emerged scott-free," stated the report. "However, by addressing this negative trend proactively, the large volume of social conversation around the controversy actually served to strengthen their brand."
This analysis paved the way for a collaboration with the Huffington Post which aimed at examining which SuperBowl ads and fans generated the most buzz during the game and from there to a business deal, announced last week, with candy giant Mars, Inc. According to the deal, Taykey's role will be to measure the international trends of the superbrands Skittles and Juicy Fruits, both of the Wrigley Division of Mars, Inc.
"Israel is a renowned startup nation," said Avner to Tazpit Press Service (TPS). "Israel has proven itself to be in the top three worldwide in creating successful tech start-ups." Avner was not at liberty to disclose details of the deal or what it meant for the company in terms of growth and exposure.
The New-York based company currently employs 60 people between Israel (Herzliya) and the United States and has managed to raise up to $32 million in funds from Sequoia Capital, Sofbank Group and Eric Schmidt among others.
Story reprinted with permission from TPS