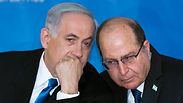 Netanyahu and Ya'alon
Photo: EPA
Cabinet official: PM and Ya'alon cut budgets prior to Gaza war
The night prior to the release of the state comptroller's report concerning Operation Protective Edge, which is expected to heap criticism on the mishandling of the incursion, a security cabinet official accuses Netanyahu and former defense minister Ya'alon of compromising security of Israeli towns around Gaza by slashing the security budget.
A Cabinet official accused both Prime Minister Benjamin Netanyahu and former Defense Minister Moshe Ya'alon Monday of implementing budget cuts just prior to the launching of Operation Protective Edge in 2014, at the most inopportune time.

The official, whose claim comes ahead of the release of the state comptroller's report regarding the incursion which is expected to heap criticism on the handling of the incursion, argues that the cuts compromised the security of the Israeli towns surrounding Gaza.

"One of the most important points prior to the Operation was the budget cuts to the security of the towns surrounding Gaza," the official said. "Netanyahu and Ya'alon cut the security budgets allocated to the Gaza area while Hamas was digging tunnels, causing the residents to lose their sense of security."

Earlier Monday, during Prime Minister Netanyahu's Likud faction meeting, he said that "contrary to the Comptroller's report—I back the IDF Chiefs, the Shin Bet and the defense forces—who have been guarding and are guarding the citizens of Israel.

"Our commanders and fighters have fought fiercely and Israel is proud of them. The truly important lessons are not in the Comptroller's report and we are applying them without issuing any statements to the media. We are applying them thoroughly, consistently and quietly.

Ya'alon himself wrote Sunday on his Facebook page: "You will be hearing quite a bit about Protective Edge in the coming week. Those who practiced politics in the Cabinet during the war, in an unprecedented manner, will continue to do so this week. They will tell you they didn't know, they weren't told, that no one reported to them. And the biggest lie? That we were unprepared and that we lost. That's nonsense. There are those who leak and there are those who fight."

The current Defense Minister Avigdor Lieberman said at a meeting of Yisrael Beytenu that "the comptroller's report should be used to draw conclusions, make improvements and not as a platform for settling scores.

"We will successfully move beyond the political debate and the accusations to a substantive discussion of what requires improvement and what can be improved."

Finance Minister Moshe Kahlon said that "reaching conclusions is a critical move. But just as I support the criticism, I am disgusted by the leaks in the cabinet. And leaks in the cabinet unequivocally endanger the lives of soldiers. We, as cabinet members, must not use these reports as a tool for political bashing. The IDF is dear to us. Restrain yourselves. "