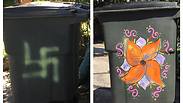 US Jewish centers struck by another wave of bomb threats
Jewish communities across 11 states received bomb threats in at least 16 Jewish centers and schools, making it the fifth wave of bomb threats since January; incidents occur just a day after yet another Jewish cemetery in Philadelphia was vandalized.
Jewish centers and schools around the US are coping with yet another wave of anti-Semitism, as at least 16 such centers and Jewish schools received bomb threats on Monday.

The threats come as officials in Philadelphia begin raising money to repair and restore vandalized headstones at a Jewish cemetery.

The JCC Association of North America says Jewish Community Centers and day schools in 11 states received bomb threats on Monday.

The threats, all of which appeared to be hoaxes, were received in Alabama, Delaware, Florida, Indiana, Maryland, Michigan, New Jersey, New York, North Carolina, Pennsylvania and Virginia. For some centers, it was the second or third time this year that they had been forced to put their threat evacuation drill into practice.

Officials say many of the buildings have been cleared and have returned to normal operations. The FBI is investigating the incidents, which join a plethora of similar such incidents, which have rocked the country's Jewish community.

The case is the fifth wave of bomb threats against Jewish Community Centers and Jewish institutions since January.

In Philadelphia, more than 100 headstones were knocked over at Mount Carmel Cemetery. Police are investigating.

"Members of our community must see swift and concerted action from federal officials to identify and capture the perpetrator or perpetrators who are trying to instill anxiety and fear in our communities," David Posner, a director at the JCC Association, said in a statement.

Jewish groups, US President Donald Trump and Israeli officials have all condemned the surge in disruptive intimidation, as well as the vandalism of Jewish cemeteries.

White House spokesman Sean Spicer raised the subject of the vandalism at a news briefing on Monday.

"The president continues to condemn these and any other forms of anti-Semitic and hateful acts in the strongest terms," he told reporters, saying they were in breach of the country's founding principles.

Money is being raised to repair and restore the more than 100 headstones that were vandalized at the Philadelphia Jewish cemetery.

A man visiting Mount Carmel Cemetery on Sunday called police to report that three of his relatives' headstones had been knocked over and damaged. The discovery came less than a week after similar vandalism in Missouri.

Police say approximately 100 additional headstones were knocked over, apparently sometime after dark Saturday and are conducting a criminal mischief-institutional vandalism investigation.

Philadelphia Mayor Jim Kenney says authorities are doing everything possible to find those "who desecrated this final resting place."

The Anti-Defamation League and a police union are offering a $13,000 reward for information leading to the arrest and conviction of those responsible.

Several Jewish community centers were also evacuated for a time last Monday after receiving bomb threats, the JCC Association of North America organization said.

Children were also evacuated on Monday from the Charles E. Smith Jewish Day School in Rockville, Maryland, and the Gesher Jewish Day School in Fairfax, Virginia, after receiving telephoned bomb threats, according to a statement by the Jewish Federation of Greater Washington.