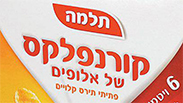 Unilever to be fined for misleading on salmonella contamination
The Israeli branch of the international company is to fined NIS 594,000 for having misled the public via the media and customer service representatives by claiming its products were uncontaminated whilst having information to the contrary.
Unilever is expected to be fined 594,000 shekels for having violated the Consumer Protection Law by claiming in public statements that its products were fit for consumption whilst it had learnt of salmonella in its breakfast cereals in Israel half a year earlier.

.

The fine, levied by the Consumer Protection and Fair Trade Authority, is for misleading statements issued by the company last July and August. An additional reason is that Unilever customer service representatives assured consumers that their cereals were safe for consumption and that contaminated produces had never reached the market.

According to the CPFTA, despite having knowledge of tests' revealing contamination in their products, the company distributed them to retail chains and issued their misleading statements to the media.

Unilever was informed of the CPFTA's intention to issue a fine and has the option to request a hearing, which might reduce the fine. Its current sum is already a reduction of 20 percent of the original, as this is Unilever's first offense.

The company issued a statement saying that they were studying the announcement.