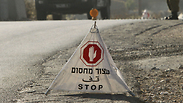 Four soldiers were indicted on Monday of having accepted bribes of drugs and money to allow Palestinians to cross into Israel without a permit or being checked.

.

The soldiers all served at the Te'enim Crossing nearby Tulkarm. Two of them were commanders at the checkpoint. They are all charged with aiding an Arab Israeli and his Palestinian friend with smuggling. For each Palestinian that was smuggled in, the soldiers received between 100 and 150 shekels.

An undercover investigation carried out by the Israel Police and Military Police that included wiretaps revealed that the bribery began at the start of 2015. The soldiers made sure to "secure" the smuggling route. They allegedly received specific information from the two smugglers regarding the make, model and color of the car in which the Palestinians would enter Israel, sometimes on a daily basis.

The soldiers are also accused of warning the Palestinians of the presence of senior officers or police in the district. The indictments claim that every smuggled Palestinian paid the gang between 300 and 400 shekels for entry into Israel. The smugglers allegedly attempted to develop good relationships with the four soldiers by providing them with drugs.

The soldiers are also accused of exceeding their authority while endangering national security, providing assistance to illegally enter Israel, illegal transportation into Israel, use and possession of a dangerous drug, obstruction of justice and conduct unbecoming.

Indictments were also handed down for civilians involved in the affair.