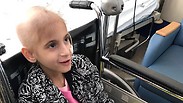 Mother of 8-year-old girl seek financial support for cancer treatment
Yahel is diagnosed with neuroblastoma, a violent form of cancer afflicting the nervous system; after 2 years of treatment, the cancer is back, and her condition worsens; now, only a treatment costing NIS 60,000 might save her life.
After her twin sister recovered from a rare tumor, 8-year-old Yahel Shomron was diagnosed with neuroblastoma, a violent form of cancer afflicting the nervous system. After long extended treatments her cancer is back and her condition is worsening, while an expensive treatment is her only chance of survival.

The Shomron family's story began about two hours after the twins were born. Their mother was informed that Tahel, one of the twins, had a rare malignant tumor in her neck. "I didn't understand the significance of it at the time, only that we are going to go through some very tough treatments," said the mother, Shani.

Tahel was treated for two and a half years, after which her family was told that the tumor is no longer active and that Tahel is healthy. Only after less than a year after Tahel's recovery, they received more bad news: now her twin sister Yahel has cancer.

Yahel was treated for a year and seven months, after which she was clear of cancer. A few months ago, while Yahel was still recovering from the damages of the treatment and chemotherapy, her cancer recurred.

Doctors have ascertained that an expensive treatment costing NIS 60,000 a month, for many months, is the only chance to save Yahel's life. Shani is asingle mother who can't afford the expensive treatment.

"I hope people will open their hearts and help us defeat this terrible disease," said Shani, adding, "Yahel wants to live like the other kids so badly. She's a strong and brave little girl, who dreams of recovering and starting anew."

The family is aided by the voluntary organization Lehoshit Yad, which offered to help by gathering the donation money.

If you wish to help, you can do so here:

To donate by credit, press here.

To donate by phone, call *3788 (works 24 hours a day).

To make a wire transfer, send the money to Bank Hapoalim branch 781, account number 371074, to the recipient Lehoshit Yad for the aid of Yahel Shomron. You may call *3788 after the transfer to receive a receipt.