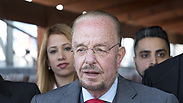 Azaria's sole lawyer now
Photo: Gil Yohanan
Three of convicted killer Elor Azaria's four lawyers resigned from his legal team on Wednesday as the one remaining attorney filed an appeal against the soldier's manslaughter conviction.

The resigning lawyers, Eyal Besserglick, Ilan Katz and Karmit Scheiber, released a self-laudatory statement in which they simultaneously boasted of their legal achievements and condemned the verdict. They claimed to have written 50 pages of the appeal that was filed by Azaria's sole remaining lawyer, Yoram Sheftel, on Wednesday.

They explained that they considered themselves to have reached "the maximum in this instance" and that they would be employing "alternative channels for the good of the soldier" that they had offered this alternative assistance to the family pro bono. However, the statement continues, the family elected to appeal, and the lawyers offered them their continued assistance.

The Military Advocate General, for their part, have not yet revealed if they will appeal the sentence of 18 months for having killed an incapacitated Palestinian terrorist. They have another week to decide.

Over the past week the Azaria team was divided on how best to proceed. Katz and Besserglick were of the opinion that it was best to give up on an appeal and begin applying for a reprieve from the military or clemency from the president.

Their reasoning for this is that the several-month process of filing an appeal will delay the applications for a reprieve or clemency by at least three months, which is likely to damage the chances of his sentence being significantly reduced.

The opposing position supported the filing of an appeal due to the seriousness of manslaughter, of which Azaria was convicted.