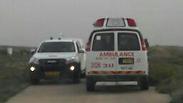 The scene of the attack
Photo: South Mt. Hebron Council
A Palestinian terrorist stabbed an Israeli settlers in the southern Mount Hebron area of the West Bank on Wednesday afternoon, after which the settler opened fire on the terrorist and amanged to kill him.
The terrorist infiltrated the Mor Farm outpost near the settlement Teneh Omarim, where he stabbed and lightly wounded a settler, at his home and in front of his children.
A preliminary investigation found that the terrorist entered the farm, and that after the settler heard noises coming from the outside, he exited his house and noticed the terrorist holding two knives. The settler then ran home to retrieve a gun, with the terrorist in hot pursuit. Both men reached the settler's home, where the terrorist proceeded to stab him before his wife and children. The settler then shot and killed the terrorist.
Residents of Teneh Omarim were told to stay indoors, as searches for a possible second terrorist are being carried out.