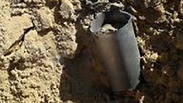 Illustration
Police Spokesperson's Unit
A rocket exploded in Ashkelon beach after being fired from the Gaza Strip on Wednesday, despite no Code Red siren being sounded. There were no casualties in the incident and no property was damaged.
Shortly after the launch, Hamas began evacuating security posts for fear of an Israeli retribitive strike.
The incident marks the fifth rocket to have been launched at Israel within the last month.
In the early hours of Monday morning a rocket exploded in Sha'ar HaNegev region, which was later found to have landed in an agricultural field nearby. There were no casualties and no property was damaged.
In response to the rocket on Monday the Israel Air Force struck Hamas targets across the Gaza Strip, following which Defense Minister Avigdor Lieberman issued a statement reiterating that he had no intention of escalating tensions on the sensitive border.
"I want to return to the policy I set in the Defense Ministry since I became the head of it. We have no intention for a military operation in the Gaza Strip. But we also have no intention to absorb hits. We will not get into a rocket launching ping-pong match. I suggest Hamas take responsibility, get in order and calm down."
Hamas responded by blaming Israel for the increasingly precarious military situation building up on the border.
"We hold Israel fully accountable for the dangerous escalation against Gaza, that was intended to damage the Palestinian resistance and our residents in the strip," the organization said.
"The continuation of the strikes against the resistance posts and the deliberate attempt to blow up the situation in Gaza are things that cannot be allowed, no matter the cost."
Matan Tzuri, Yoav Zitun and Elior Levy contributed to this report.