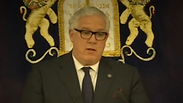 NYPD's Miller responds to Thompson's arrest
Photo: Reuters
NYPD responds to arrest of disgraced journalist over bomb threats to US Jewish groups
Watch: NYPD vows to find all responsible after former journalist is arrested for allegedly threatening Jewish institutions; 'As you make these threats from behind whatever technical curtain you use, we will shine a light in whatever direction we have to, you will be uncovered, you will be caught, and you will be charged,' says NYPD representative.
Juan M. Thompson, a disgraced former journalist, was charged on Friday after being arrested for making a wave of bomb threats to Jewish organizations while posing as an ex-girlfriend in retaliation for breaking up with him. Thompson, 31, was arrested in St. Louis, the first case to emerge from a federal investigation into a surge of threats against Jewish Community Centers (JCCs) and schools that has rattled American Jews.

"What we have seen over the past weeks has been a spate of threats that is nearing almost 100, covering 40 states, targeting Jewish institutions across the country," said NYPD Deputy Commissioner John Miller. "New York has not been immune from these threats."

NYPD responds to Thompson's arrest

Responding to Thompson's arrest, Miller said, "I think we were able to shed some light on that today with the arrest made by the FBI in St. Louis, of an individual who is responsible for some number of these acts, particularly a handful that concern New York City.

"As you make these threats from behind whatever technical curtain you use, we will shine a light in whatever direction we have to, you will be uncovered, you will be caught, and you will be charged. And if there are other individuals, and I think it is likely that there are, this investigation will lead to their identity, too," added Miller.

Federal prosecutors described a vicious, months-long harassment campaign in which Thompson allegedly used fake email accounts to accuse the woman of possessing child pornography, driving drunk and, finally, making bomb threats targeting Jewish groups.

US authorities are examining more than 100 threats made against JCCs by phone this year, which appear unrelated to the Thompson allegations. Federal Bureau of Investigation Director James Comey met with Jewish leaders on Friday to discuss the ongoing investigation.

A criminal complaint unsealed in Manhattan accused Thompson of threatening organizations including a Jewish museum in New York and the Anti-Defamation League (ADL). All occurred after the first flood of phone threats in early January.

The hoax threats against JCCs have stoked fears of a resurgence in anti-Semitism and forced the evacuation of many centers, including some with day care for young children.

Prosecutors said Thompson wanted to portray his ex-girlfriend as an anti-Semite, a characterization he repeated on Twitter. It was unclear if he shared those sentiments, and his recent posts did not include explicit anti-Semitism.

But the ADL said he had been "on the radar" due to his past activities, including "rants against white people."

Thompson was a reporter for the Intercept, a news website, until he was fired last year for allegedly inventing sources and quotes.

Intercept editor Betsy Reed said the website was "horrified" by his arrest.

Thompson made an initial appearance on Friday in US court in St. Louis on one count of cyber stalking, where a judge ordered that he remain in federal custody, according to media reports. He is likely to be extradited to New York to face prosecution.

His court-appointed lawyer was not immediately available for comment.

'Nasty racist white girl'

The Intercept said in February 2016 that Thompson employed a fake email account to pose as a source and try to hide his fabrications.

After his girlfriend broke up with him in July 2016, prosecutors said, Thompson used the same technique during months of increasingly vicious harassment.

A day after the breakup, Thompson sent an email purportedly from a news producer to her boss at a New York social service company, according to the complaint. The email claimed she had been pulled over for drunk driving and sued for spreading a sexually transmitted disease.

In the following weeks, the woman received messages from a supposed relative of Thompson, falsely claiming Thompson was on his deathbed after a shooting.

Thompson threatened to publicize nude photos of her and told the US Secret Service on Twitter she had threatened the president, prosecutors said. He also sent an anonymous message to a national children's welfare organization claiming she had child pornography on her phone.

In late January, Thompson began emailing bomb threats to Jewish groups using his own name and then accused her on Twitter of having framed him. He also sent threats pretending to be her, according to the complaint.

One email called for a "Jewish Newtown," in a reference to the 2012 massacre of 26 children and educators at a Connecticut school.

On Feb. 24, he posted on Twitter, "Know any good lawyers? Need to stop this nasty/racist #whitegirl I dated who sent a bomb threat in my name."

Authorities are still investigating the JCC threats as well as the desecration of headstones at Jewish cemeteries in Philadelphia, St. Louis and Rochester, New York.

St. Louis police will question Thompson about the graveyard vandalism, the St. Louis Post-Dispatch reported.

In a statement, Doron Krakow, the president of the JCC Association of North America, said the group was "gratified" by the arrest.

"We trust that the perpetrators behind all of the threats will be swiftly identified and brought to justice," Krakow said.